Giving children good books at an early age will encourage them to be well read and smart individuals. Reading with children will encourage them even more so. Reading a story with children at bedtime is a part of many families' bedtime routine and is an excellent way to let the kids relax just before they are to sleep. Not only will the children learn to love reading and become well-read, but they will love the time spent and the memories they are left with.
Saturday November 6th from 11 am -1 pm is Family Literacy Day at all Clallam County Libraries. This year the theme is "Fit To Read". All kids that stop by the Forks Library will get a free book! Come celebrate National Literacy Day and be "Fit to Read."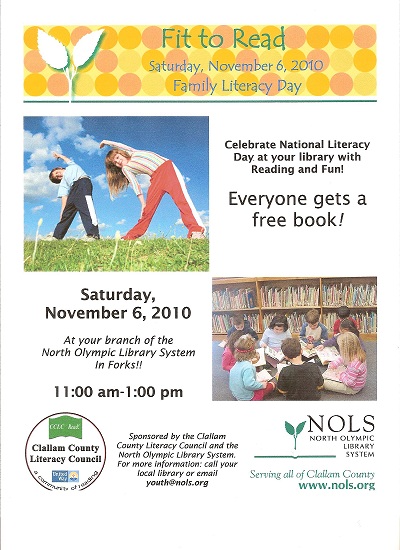 Tags: Clallam County, Forks Library, National Literacy Day, Reading
This entry was posted on Tuesday, November 2nd, 2010 at 12:47 am and is filed under Family. You can follow any responses to this entry through the RSS 2.0 feed. Both comments and pings are currently closed.