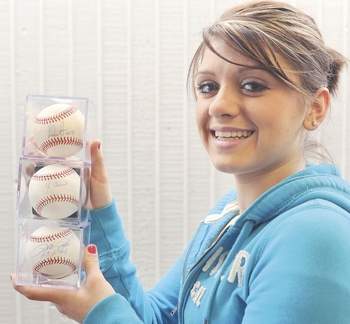 Auctioning signed baseballs!
There's a major Forks event taking place March 19 & 20 at the Bank of America building, 481 S. Forks Ave. and everyone (residents & visitors alike) are invited to be a part of the fun! The Quillayute Valley Scholarship auction, an annual spring event, brings in thousands of dollars for Forks High School graduates' further education. It's one of the biggest social events of the year in Forks. From 9am to 9pm on Saturday, March 19th and from 10am to 8pm on sunday, March 20th the action will be taking place. Last year (2010) over 900 items were sold and over $64,000 was raised.
The Forks High School graduating class of 2011 is in charge with assistance from a committee of volunteers. Live bidding will take place at the bank building for those two days. Donated items are accepted up to and during the event and every dollar is dedicated to helping students get the education and training to prepare them for the working world. Forks takes pride in its graduates, and in the success of this unique community-supported activity. There is no charge to attend and the fun of bidding can keep one amused all day! Also, plan to eat at the Senior Parent Cafe on-site and make a day of it. A new way to bid this year – log into the folllowing website: http://qvsdauction.com. SEE YOU AT THE AUCTION!