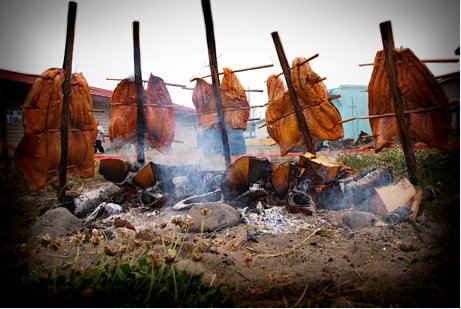 Traditionally cooked salmon – Cheryl Barth Photography 
Quileute Days
A celebration of Quileute Tribal Cultural Heritage and modern lifestyle.
It includes a traditional salmon bake, dancing and songs, a softball tournament, a horseshoe tournament, arts and crafts and food.
There are also canoe races, stick games and a fantastic fireworks display at First Beach.
For more information contact www.quileutenation.org or call 360-374-5091
Quileute Days 2012 Schedule of Events:
Friday, July 20, 2012
1pm – 4pm Elders Lounge
3pm – 4pm Opening Ceremony
4pm – 6pm Royalty Pageant
6pm Poker Tourney – Texas Hold 'Em
6pm – 8pm Adult Co-Ed Softball
6pm Stick Games
8pm – 9pm Filmmaking Workshop
9pm – 11pm 'MORE THAN FRYBREAD' Film
11pm – 12am Frybread Contest
Saturday, July 21, 2012
8am – 9pm Adult Co-Ed Softball
8am – 6pm Youth Softball
10am – 4pm Elders Lounge
10:30am Parade Line-Up
11am – 12pm Float Judging
12pm – 1pm PARADE
1pm Canoe Races
1pm – 3pm Relay For Life Silent Auction
1:30pm – 4pm Salmon Bake
2pm – 3pm Traditional Dancing & Singing
2pm Horseshoes
2pm – 10pm Poker Tourney – Texas Hold 'Em
3pm Stick Games
3pm Bingo
3pm – 5pm Kids Carnival
8pm – 9:30pm 'ANOTHER INDIAN UPRISING' Comedy
9pm Elders Lounge
9pm – midnight Street Dance
10pm – 10:30pm Fireworks
Sunday, July 22, 2012
9am – 12pm Adult Co-Ed Softball
9am – 12pm Youth Softball
9am – 10am Family 5K Fun Run
2pm Canoe Races
12pm – 3pm Salmon Bake
1pm Bingo
2pm – 10pm Poker
3pm Stick Games