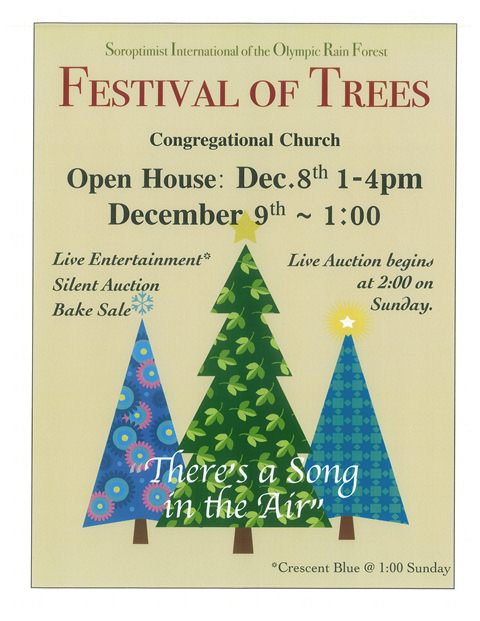 Soroptimist International
of the Olympic Rain Forest
18th Annual Festival of Trees
"There's a Song in the Air"
Forks Congregational Church
Saturday December 8th
Open House 1pm – 4pm
Sunday December 9th
Doors open at 1pm
Auction begins at 2pm
Soroptimist International of the Olympic Rain Forest (SIORF) is already thinking ahead to the wonderful holiday season in Forks and we hope you are too! The SIORF Festival of Trees has become a great tradition in Forks and it's something that we all look forward to attending. Over the last eighteen years, it has become SIORF's most important fundraiser and helps our club to provide local, hands on support within our own community.
We rely upon on your generous donations and attendance at the Festival of Trees to support a variety of service projects such as, local scholarships and grants, Forks Middle School programs and  many important projects involving the betterment and support of children that live right here in our hometown.
The live auction event will be located at the Congregational Church on Sunday, December 9th, 2012 at 2:00pm. Other important dates and information are listed below.
" SIORF will conduct refreshment sales and a holiday silent auction during special event times as indicated. Various types of entertainment will be planned for the public enjoyment Saturday and Sunday.
Thursday December 6th – 8:00am until finish: Decorating and set-up area at the church will be available all day.
Friday December 7th – 8:00am until finish: Decorating and set-up all day.
Saturday December 8th – 10:00am: Judging of decorated trees.
**1:00pm: Open House Lots of fun for everyone!
Sunday December 9th
** 1 :00 pm Doors Open
**2:00pm: Live Auction Bring lots of people to show support and participate in the fun!