When:
Back to Calendar June 30, 2012 @ 10:00 am - 3:00 pm
Repeats:
Weekly on Saturday until October 7, 2012
Where:
Visitor Information Center

✔ Add to Calendar Add to Google Calendar
Categories:
Community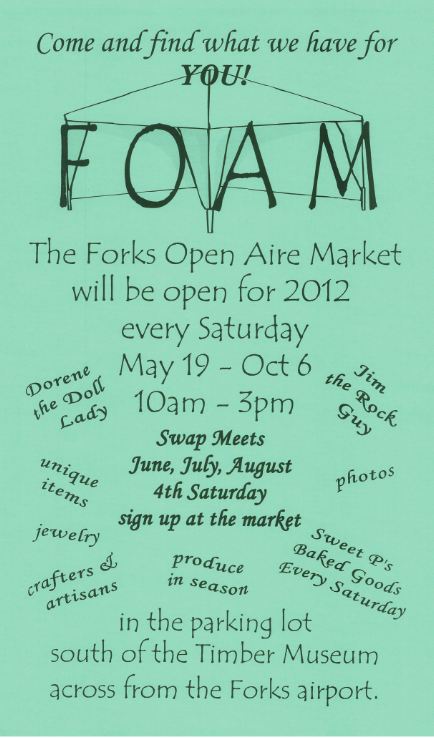 Forks Open Aire Market (FOAM)
will be open again this year in the parking lot south of the Timber Museum.
FOAM is held Saturdays only from 10am to 3pm(ish).
FOAM traditionally opens the Saturday before Memorial Day weekend
and runs through the Saturday of Hickory Shirt / Heritage Days on October 13th.
FOAM is located in the beautiful park-like atmosphere
south of the Timber Museum, surrounded by the trees and green space.
FOAM specializes in local crafts, baked goods from Sweet P's Bakery, flowers and produce when available.
Due to request, we have changed our minds. The Forks Open Aire Market has named the rest of our season as Swap Meet Saturdays. In addition to our regular market vendors, we welcome the sale of garage-sale-style items during our regular operating hours of 10 am – 3 pm. Bring your items and your tables, and join in! Spaces are approximately 10 ft. square, and cost $5. Setup begins by 9 am. Non-profits are welcome, too.
Come to sell! Come to buy! Come to browse!
New vendors are always welcome at the Open Aire Market, located on Forks Ave. south of the Timber Museum, across from the airport.
For more information contact FOAM Manager forksopenairemarket@live.com