Directory
Directory of Chamber of Commerce members in good standing.
Quick Search:
0-9 | A | B | C | D | E | F | G | H | I | J | K | L | M | N | O | P | Q | R | S | T | U | V | W | X | Y | Z | all | Clear Search | All Listings
Currently browsing:
Outdoor Adventures

starting with

'R'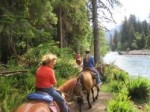 Forks, WA 98331
Phone: 360-327-3611
Email: baysinger@centurytel.net
Facebook: http://www.facebook.com/rainforesthorserides
"Your trip is sure to be filled with good conversation, humor, savvy leadership and plenty of silence, broken only by the sound of the river rushing by, a fish tail slapping the surface of the water, or maybe an elk whetting his antlers along the trail." Interpretive horseback trail rides in the Olympic National Park [Read more...]

4883 Upper Hoh Rd
Forks, WA 98331
Phone: 360-374-9288
Website: http://www.rainforestpaddlers.com
We offer three ways to enjoy and explore the wilderness of the Olympic Peninsula. Raft, Kayak, or Bicycle with us through the paradise in our backyard. Don´t miss this adventure of a lifetime. Rainforest Paddlers offers Kayak trips on the Hoh, Sol Duc and Quillayute Rivers. Kayak and bike rentals, along with sales.