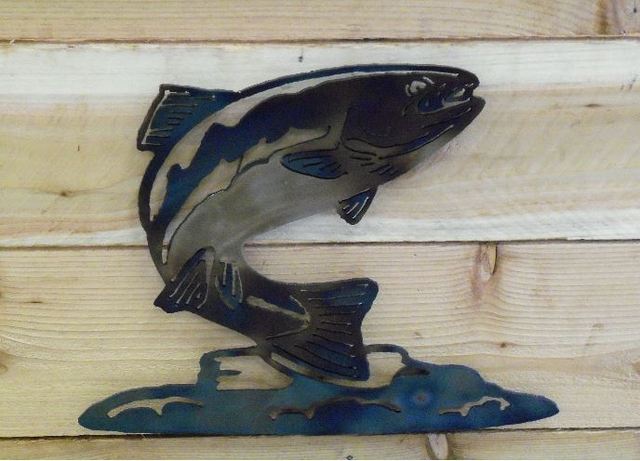 The Quillayute Valley Scholarship Auction is this weekend, March 16 – 17, and the FHS Seniors are gearing up for a fun weekend of live auction items, food and fundraising.  The Scholarship Auction is an annual event that the whole town looks forward to and is open to the public.  The seniors organize this event, collect the donations and run the auction.  All money raised goes towards scholarships, trade school funding or work-related items (like tools or boots) for FHS grads.  This event has been going for over 40 years and has raised over a million dollars.
Auction items can be viewed on the web www.searchforks.com/qvsa and can be bid on by calling the phone number provided on the website.  Donations are accepted throughout the auction.  Monetary donations can be mailed to QVSA, PO Box 976, Forks, WA 98331.
The "Salmon In Water" pictured is handmade by OCC inmates and their contribution of handcrafted toys and decorative items are important to the auction every year.  This year, in addition to the toys they have donated, they are offering to personalize them with a logo or name after the auction.
There is a wide variety of auction items like baked goods, smoked salmon, handmade toys and decorative items, firewood, fishing trips, hunting trips, services and more.