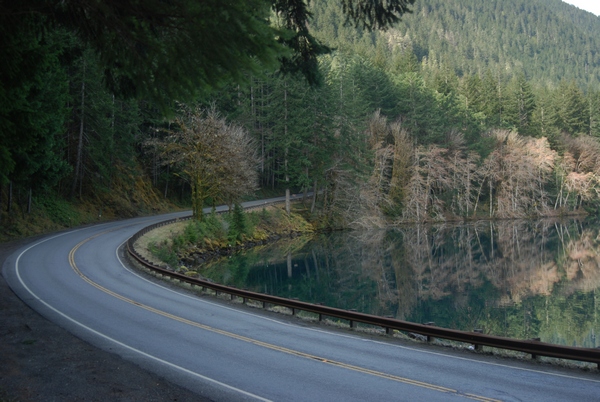 "How do I get to Forks, Washington once I arrive at Sea-Tac?" is one of the most common questions we get when people contact the Forks Visitor Information Center.
Forks is about 3.5 hours from Sea-Tac International Airport.  And there are many ways and routes to get from Sea-Tac to Forks.  With some planning, it is very easy to take advantage of the commuter flights and bus service.  I recommend flying into Sea-Tac as early as possible, preferably before noon.  This gives you time to catch the flight or bus and arrive in Port Angeles, and still get to Forks by early evening.
Once you arrive in Port Angeles, there are a few "Twilight" spots to check out like Bella Italia (where Edward and Bella had their first date), the movie theater and the book store – all featured in the books.  You will then travel the 56 miles to Forks where you will see the beauty of Lake Crescent while traveling through the Olympic National Park and Forest.
If you fly Kenmore Air from Sea-Tac to Fairchild International Airport in Port Angeles, this is what you can expect:
When you purchase your ticket, make sure that you let them know you will need the shuttle service (no additional charge) to Boeing Field.   After you get your baggage, you will depart from Door 00 on the bottom floor and it is very easy to find.  You will take the shuttle bus from Sea-Tac to Boeing Field where you will depart for Port Angeles.  On a clear day, there is a spectacular view of downtown Seattle, including the Space Needle.
When you arrive in Port Angeles, you can rent a car at the airport or take Clallam Transit* to Forks.  Private flights to Forks Municipal Airport are another option.
If you take the Dungeness Line bus service from Sea-Tac to downtown Port Angeles, this is what you can expect:
You will depart from Door 00, the route takes you over the Kingston/Edmonds Ferry, and since it is a bus service, they don't make you wait in line.  You will get to enjoy a ferry ride and the beautiful countryside.  And if you are afraid of flying on small planes, this is a great choice.  The 12:50pm route usually arrives in Port Angeles at 4:35pm.
When you arrive in Port Angeles, you can rent a car downtown (at the Olympic Bus Lines office, home of the Dungeness Line) or take Clallam Transit to Forks.
Budget Car Rental – There is an office in Port Angeles that is locally owned by the Olympic Bus Lines so make sure that if you rent a car, you call them, and not the nationwide number.  They have rental offices in downtown Port Angeles and at the airport.  Their phone number is 360-417-0700 or 800-457-4492.
Clallam Transit – This is public transit and operates limited hours.  *The bus does not go to the airport unless you request it prior to your arrival.
Bella Italia, Dungeness Line and Kenmore Air are members of the Forks Chamber of Commerce.
If you rent a car at SeaTac and drive to Forks:
I recommend taking the Tacoma Narrows route from Sea-Tac to Forks.  This takes you I5 South  to 16W to 3N, then turn left and go over the Hood Canal Bridge on 104W, then take 101N and stay on that until you get to Port Angeles, where you will turn left (follow sign to Forks), then you will stay on 101 until you reach Forks.
These directions can be downloaded on Google Maps.
Have other questions?  Feel free to contact us at info@forkswa.com
Thanks and happy traveling!