The Magic of Relay
Hope It! Dream It! Cure it!
Come for dinner – stay for breakfast!
Schedule of Events:
Friday, August 3rd
3pm – Soft Start (walking begins)
4pm – "Walk about Town"
5pm – Dave Gedlund
6pm – Opening Ceremony Survivor Lap
6:30pm – Therapy Session Band
7:30 – Jimmy Hoffman Band
8pm – Locks of Love Haircuts
8:30pm – Games
9pm – Jimmy Hoffman Band
10pm – Luminaria Ceremony
10:30pm – Wish Lanterns
11pm – Chuck DeOng
Saturday, August 4th
12am – Zoomba
1am – PJ and stuffed animal lap
6am – WAKE UP!!!!
7am – Exercise Session
8am – Hula Hoop Contest
9am – Games
10am – AG Band
10:30am – Scott Seaman's lap
1pm – Drawing for Kayak and Fire Pit
11:30am – Fight Back! Closing Ceremony, Sponsorship Recognition
12pm – Last Lap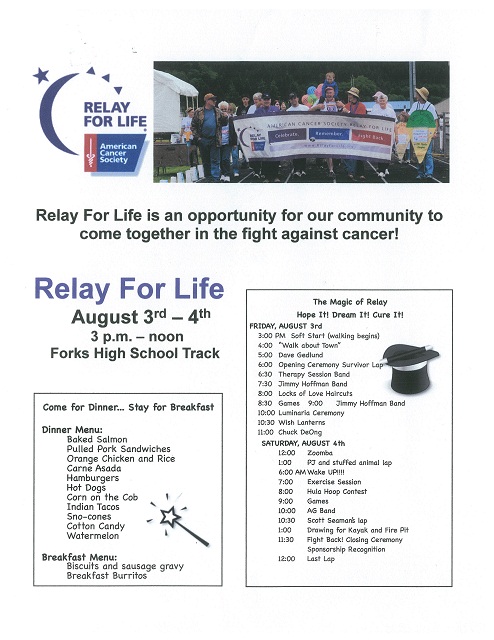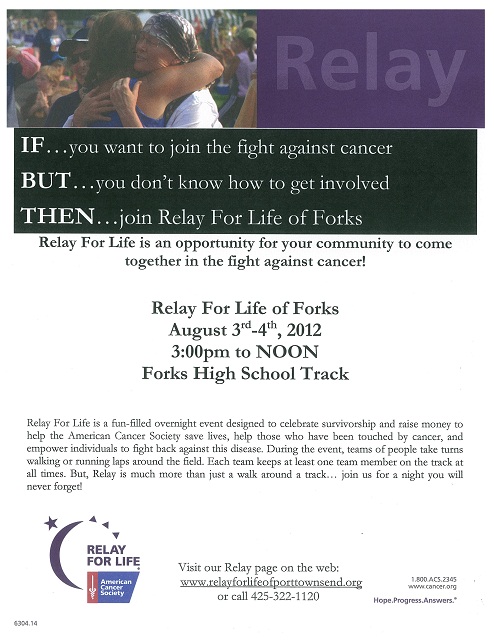 American Cancer Society Relay for Life
August 3rd - 4th 3pm to NOON
Relay For Life is a fun-filled overnight event designed to celebrate survivorship and raise money for research and programs for your American Cancer Society. Teams of people gather at Forks High School track and take turns walking or running laps. Each team tries to keep at least one team member on the track at all times. Relay For Life represents the hope that those lost to cancer will never be forgotten, that those facing cancer will be supported, and that one day cancer will be eliminated. Sign up today at www.relayforlifeofforks.org  and the theme is magic. 
Relay For Life of Forks raised $29,000 in 2011 and hopes to raise $33,000 in 2012!
For more info contact Joe Korst nikequest@hotmail.com or Tracy Radford Tracy.radford@cancer.org