Directory
Directory of Chamber of Commerce members in good standing.
Rain Forest Horse Rides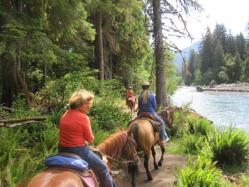 "Your trip is sure to be filled with good conversation, humor, savvy leadership and plenty of silence, broken only by the sound of the river rushing by, a fish tail slapping the surface of the water, or maybe an elk whetting his antlers along the trail."
Interpretive horseback trail rides in the Olympic National Park forests. Small groups, $50-$155 per person depending on destination.
Enjoy your horseback riding experience on our trail savvy mountain horses and mules.