Directory
Directory of Chamber of Commerce members in good standing.
The Loft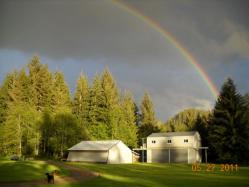 Escape naturally to a country setting located on the Bogachiel River 6 miles south of Forks. With one half mile of river front, our 40+ acres are unspoiled with a guiet serene beauty and abundant wildlife (i.e. elk herds, bald eagles). Across from Bogachiel State Park with river boat access.
We have 2 units, the first accessible by flight of stairs. The second, a 14×70 mobile newly remodeled handicap accessible. Both sleep 8.
Lodging – 2 units:  One unit includes full kitchen, full bath, 3 queen beds & queen futon. Second unit is handicap accessible with one queen bed, two double XL beds, & queen hide-a-bed.