Directory
Directory of Chamber of Commerce members in good standing.
TwiFoot Tours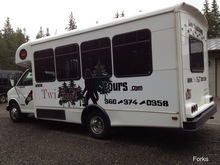 Vampires, Werewolves & Bigfoot… Oh my!  TwiFoot Tours are designed to put a smile on your face, and keep it there.  Immerse yourself in the magical and mysterious settings of Stephenie Meyer's "Twilight Saga" as well as the lush temperate rainforest where Bigfoot has allegedly been known to make an appearance.  If you're drawn to our city because it's the setting of the Twilight Saga or you're more into a hiking adventure in the Hoh Rain Forest… TwiFoot Tours will make this a visit to remember.
We have tours scheduled daily at 10:30am and 2pm.  Call to check availability and book your seat.  Visit our website for complete information, tour options, and pricing.
We are also available for drop off and pick up service for long-distance hikers.
For online booking check out http://twifoottours.rezgo.com/