Directory
Directory of Chamber of Commerce members in good standing.
Twilight Tours by Team Forks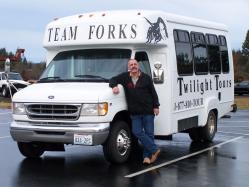 Ride with Team Forks Twilight Adventures as we go where only your fantasies have taken you before. Immerse yourself in the mysterious setting of the Twilight saga. From Forks to La Push, Vampires to Werewolves, spend time at all the places most will know only in their wildest dreams.
The Only Tour on Planet Earth that goes to La Push!