Last Chance Salmon Derby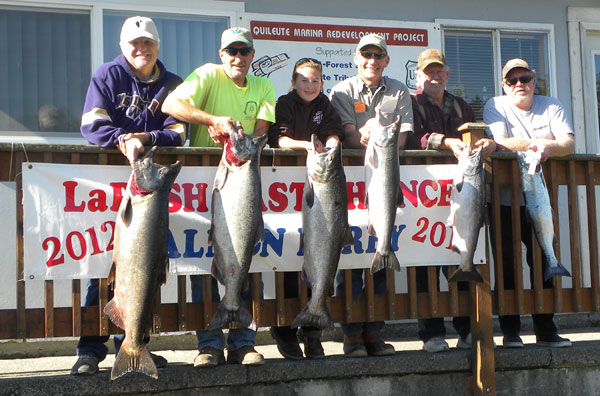 Last Chance Salmon Derby 2012 Winners
Pictured from left – Chinook: Gerald Hanson 32.8 lbs, Jim Hammond 27.5 lbs,
Tea' Gauthun 26.9 lbs; Coho: John Rand 13.5 lbs, Charlie Long 11.9 lbs, Randy Richardson 9.5 lbs
With a total of 96 entrants at the 2012 Last Chance Salmon Derby, the Quileute Tribe, City of Forks and Forks Chamber of Commerce are very happy to have partnered together to bring this tournament to La Push for the 12th year in a row.  The seas were calm and it was very sunny for an October weekend which made it very pleasant for fishermen and volunteers.  The salmon seemed to be a little more active in the afternoon on Saturday, but cooperated Sunday morning.  The winning Chinook was caught near the close of the derby and the winning Coho came in bright and early Sunday.  Whether the weather is ideal or uncooperative, the anglers show up and we appreciate them!  The ladies gave the gentlemen a run for their money, staying on the board equally through most of the derby.  We also had a great prize drawing at the close of the derby and are grateful to all our prize donors.  We look forward to next year and hope to see you there!
LA PUSH LAST CHANCE SALMON DERBY HISTORY
The first derby was held in 2001 as a cooperative venture between the City of Forks, the Quileute Tribe and the Forks Chamber of Commerce. It's held near the end of the fishing year as a "bubble season event." The derby has run each year since except for 2005 when the event was cancelled at the last moment because of weather.
It is planned for two days (Saturday and Sunday) but there have been years when it closed early or only ran one day (such as in 2007) due to weather. The Coast Guard, who has always had an active role in overseeing the derby, determines whether or not to "close the bar" and thus shut down the derby. Their concern has always been safety first.
Cash prizes are awarded for largest, second largest and third largest Coho and Chinook and largest bottom fish. At one time, a prize was awarded for largest Lingcod as well as fourth, fifth, and sixth largest Coho and Chinook. In 2010, the latter three prizes were discontinued, as was the Lingcod category. Donated merchandise is given away at the end of the derby to the ticket-holders present.
The entry fee was $30 for both days of fishing until 2010 when it was dropped to $25 for the 2 days.
While not a big derby, as derbies go, participants proclaim it a "fun one" and many come back year after year to fish the tricky waters of La Push.
The derby is co-sponsored by the Forks Chamber of Commerce, City of Forks and the Quileute Tribe.