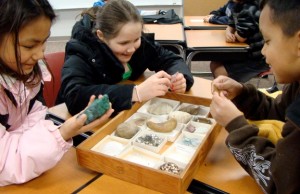 Burke Museum of Natural History and Culture, a Washington State museum, is bringing a taste of its exhibit and educational programs to Forks this spring. In this photo, students at the Lummi Nation School look like they enjoy handling real fossils and rock specimens from the Burke's collections during a recent "Burkemobile" visit.
---
From March 28 – June 7, a Burke traveling exhibit called Fast Moving Water: The Hoh River Story is on view at the Peninsula College Forks Extension Site. In Fast Moving Water, nature photographer Keith Lazelle has captured the dramatic beauty of the Hoh River, one of the few virtually intact and pristine rivers in the contiguous United States. A conservation success story, the Hoh River flows naturally over 50 miles from its source in the Olympic Mountains into its estuary at the Pacific Ocean. The Forks Timber Museum has worked with Peninsula College to bring this exhibit to Forks. There is no charge to visit the exhibit.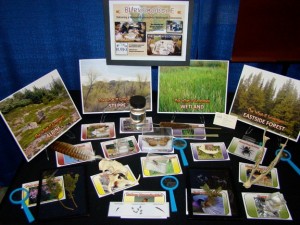 In addition to bringing Fast Moving Water to Forks, the Burke Museum is sending educators into local schools from May 5-7. As part of a new outreach program known as Burkemobile, educators from the Burke Museum have visited schools around the state teaching lessons on fossils, ecology, and Native cultures. During the three-day visit to Forks in May, Burke educators will connect with 500 students at Forks Elementary and Middle Schools. As one Forks teacher wrote, "Our teachers are really excited about having some 'experts' visiting."
Burke Museum Environmental Educator Tim Stetter says, "Burkemobile serves a real need throughout the state for quality science and cultural education programs that go to the classroom. As schools face increasing barriers to field trips, we're there to bring a museum experience to their students. Just like the students who come to the museum, these kids can't believe they're holding a real fossil or examining a real Monarch butterfly. There's a magic moment waiting for them."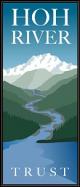 Students will be encouraged to visit Fast Moving Water: The Hoh River Story with their families to learn more about this unique local ecosystem.
"As the Washington State museum, we take our mission to serve the needs of the entire state very seriously," says Burke Museum Director Dr. Julie Stein. "I am very proud that the Burke can bring high-quality museum exhibits and educational programs to all the corners of the state."
Information and photographs courtesy of the Burke Museum of Natural History and Culture. Thanks for coming to Forks!