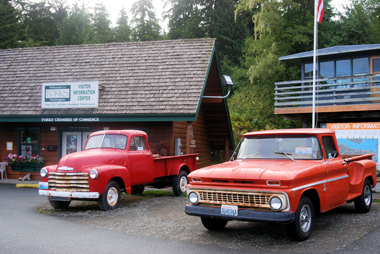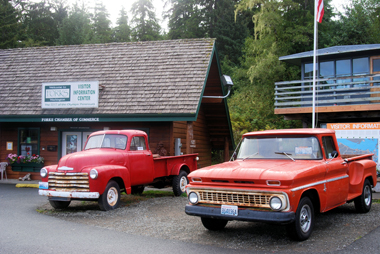 Bella's Book truck on left and Movie truck on right
Up until last weekend the Forks Chamber of Commerce visitor center had on display the book version of the truck (ca. 1952) that Bella drives.
During the Stephenie Meyer weekend in Forks on September 12th, the Elwha River Casino held a drawing in Forks at Tillicum Park for a 1963 chevrolet truck. The name they drew (from 35,000 entries) decided to keep $2,000 rather than the truck. Therefore, the casino graciously donated the truck to the Forks Chamber of Commerce. This is the chevy truck that main Twilight character, Bella, drives in the the Twilight Saga movie series. So now the visitor center has both the book and movie versions of Bella's truck. This should cause less confusion now about which truck is which, as the trucks look very different being eleven years apart.