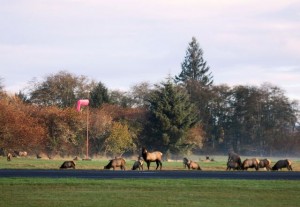 Across the street from the Forks Information Center on the airport runway, a herd of elk gather daily for weeks at a time, then disappear for months, then reappear. We wonder if they notice all the activity going on at 1411 South Forks Avenue, better known as the VIC. We think it likely some of these things have occurred to them:
*Sure a lot of vehicles going in and out of that parking lot over there. And many of those cars have writing on them, like "Team Edward" or "T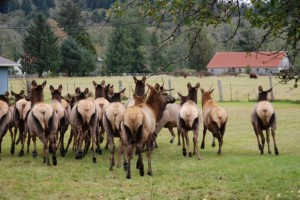 eam Jacob" or "La Push or bust" or "Vampires Rule, Werewolves Drool."
*Lots of lights flasing across the street. What's a "camera?"
*Seems to me there are a lot of youngish visitors climbing out of their cars and squealing. I wonder if they are squealing about me?
*Sure would like to sample the grass over there. It looks greener.
*I don't understand why people over there are always staring at us. Haven't they ever seen a hairy, antlered, grass-munching four-legged animal before?
*I think I'll turn around and let them see how I look from the back
(Contributed by Marcia Bingham, Director, Forks Chamber of Commerce)