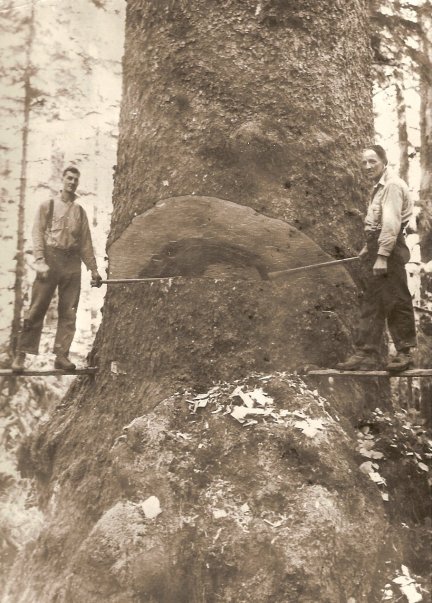 While the TV show AX MEN is in re-runs the real thing can be seen every Wednesday for free, courtesy of the Forks Chamber of Commerce. Logging & Mill Tours, offered at no cost by the Forks Chamber, leave from the Forks Visitor Center at 9:00 a.m. on Wednesdays, May through September. The 2 1/2 to 3 hour tour provides a real view into the logging industry in the Forks area. Each tour, led by a volunteer experienced in logging and local forestry, is unique. The tour usually includes a visit to a working mill & logging sites as well as being jam packed with valuable information about forestry and logging. Reservations are strongly encouraged as the tours fill up quickly. Come experience the real danger and drama that loggers face every day, and get a better understanding of our local logging heritage. Call the Forks Visitor Information Center for more information 360-374-2531.
Picture: Joe Wentworth & Jack Olsen (my grandfather)
1930's Clallam County.