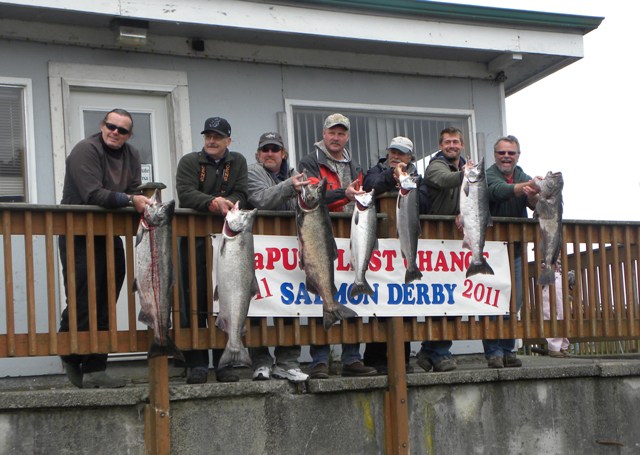 Winners from left to right: Willard Quinn (Bainbridge Island) 32.4 lb Chinook; Tom Torgeson (Fox Island) 31.9lb Chinook; Brian Short (Kingston) 28.3lb Chinook; Steve Brower (Forks) 12.9lb Coho; Don Sandstrom (Spokane) 12.4lb Coho; Wilson Easton (Port Angeles) 16.1lb Coho; Gary Keenan (Tracyton) 15.2lb bottom fish.
The Last Chance Salmon Derby was held on October 1st & 2nd at La Push. This fun event is co-sponsored each year by the City of Forks, the Forks Chamber of Commerce and the Quileute Tribe.
The Derby was well attended with 105 tickets sold.  The weather forecast wasn't favorable early in the week so that probably kept some fishermen away.  The waves weren't as bad Saturday as they were predicting, but still bad.  Sunday was calmer but colder and it did not rain which was most helpful.  As far as the leader board went, Wilson Easton stayed on top the whole time.  He and his dad, Dave Easton brought the first two fish in, the elder Easton with a Chinook.  They were the first two on the board.  The fish came in slow and steady and the leader board kept changing.  At one time a young lady, McKenna Minnoch (9 years old) was on the board with a coho.   She was presented with a special "Sportsman" award.
It was dramatic towards the cutoff on Sunday when Tom Torgeson brought in a Chinook at 11:59 knocking off the third place and putting him in second place.  The derby ended at noon on Sunday.
At the end of the derby there was a great drawing for ticket holders with many great donations from our sponsors and local merchants. It was most fortunate that the weather and current cooperated well enough that the derby went as planned without any cancellations or curtailments. Congratuations to this year's winners!