Cojones NW… you gotta HAVE 'em to RIDE 'em!
We are Debbie & Randy Bennett of Team Forks Twilight tours of Forks.. we would like to get the word out on a new venture we are starting in response to a frequent query from "our" tourists : Now what is there to do ?
We can pretty much guarantee there's nothing else like this around.
We aren't officially open just yet, the grand opening is March 1st, 2012 and the hours will be : noon to dusk – Thursday thru Sunday at first.
The following "letter" covers the gist of it.
I was following my good friend's advice by traveling to the tiny "town" of Beaver.
Beaver is THE tinyest town ever… and it's just a wolfs leap from Forks, the famous home of all things "twilight" on the beautiful Olympic Peninsula of Washington state.
My destination has the thought provoking name of "Cojones NW" and the promise of "a thrill outside the ordinary"… "something waaay different" , according to my buddy.
After an absolutely GORGEOUS drive thru northwest Washington, I arrived at their facility on a hillside overlooking an equally gorgeous valley, with sweeping views of evergreens ascending the nearby mountains which enveloped us..
Here I learned the details of my adventure :   Big Ball, me in it, zoom !
Well, I am up for almost ANYTHING that promises diversion from the workaday world, and the additional promise of outrageous excitement works for me.
sooo, while waiting my turn,
I watched as eagles rode the air currents overhead, ….also I had been told that several different herds of Roosevelt elk roamed this property & I could see evidence of that.
I also laughed myself silly at the antics of those taking their "spin" ahead of me, just watching the boarding procedure is hilarious, and then there's the varying degrees of terror on their faces as they are launched .   The screams were mixed with laughter.
That those same faces registered glee ( not just relief ) at the landing pad made me excited to get to it myself. Soon enough, it was my turn to climb the 23 degree slope to the rooftop launch, and perform a running leap at the entrance of my strange "ride".
The sounds of laughter proved others enjoyed my performance.
I finally found myself securely inside a bubble, a large inner chamber itself suspended within a huge, ten foot, hundred and fifty pound sphere of clear plastic.
There are two tunnel entrances, which can be closed or open.
This gorgeous day I have chosen to ride in my shorts and selected the option of the addition of five gallons of warm water to my bubble, so I am not in a harness, I am FREE to slosh around..
I am about to be launched from Cojones NW's 16′ high staging area .. the view is really intense from up here….oh my…oh crap….whooaaa…. WHEEE… here I GO …gaining speed while rolling down the 40′ ramp on the whackest, funnest waterslide ride I have ever had, (because with the addition of the h2o, you slosh around on the bottom as the ball rolls..) all the looong way down the specially designed 600′ track.
Gravity is in complete control, and there are no brakes … my squirming and screaming does seem to have some effect, however …
No worries, even if ya go "dry"… the balls wash up nicely with just a hose.
All in all, a very good day, sure to be repeated. These guys are very reasonable.. they charge less than half the cost per ride as the New Zealand site does..
I will drag friends and family next times, so as not to be laughed at only by strangers….
This activity was invented by Dwayne van der Sluis and Andrew Akers in New Zealand in 1995 as something exciting for tourists to do once they became jaded with bungee jumping.
What they call Zorbing has large numbers of enthusiastic participants, not only in New Zealand but also in the US, Europe and elsewhere.
We here at Cojones NW are delighted to offer an American version of this outrageous, addictive, and also very affordable adventure.
Cojones NW
60 Magnolia Rd., Beaver, WA  98305
(360)374-2123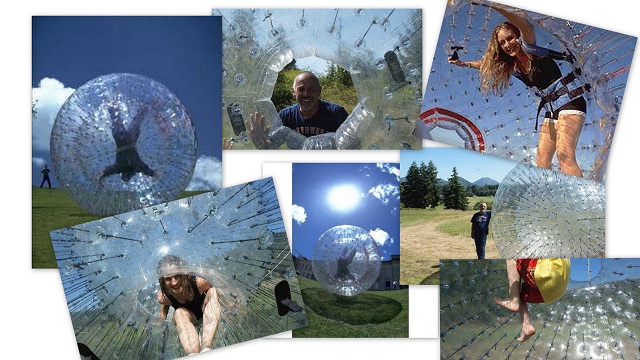 Tags: beaver washington, forks washington, Twilight, zorbing