Welcome to the Forever Twilight in Forks Collection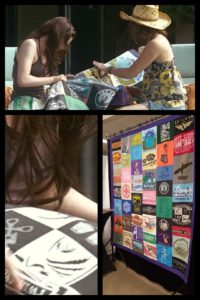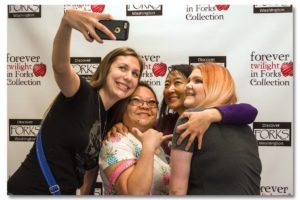 (Please note: Due to COVID-19, Washington Governor Jay Inslee has closed recreational facilities effective March 16, 2020. We are closed and will reopen as soon as the mandate is lifted.)
View screen-worn costumes and actual props used by your favorite Saga actors at the world's largest collection of Twilight Saga Props and Costumes!
Get your photo next to the actual T-Shirt Quilt from The Twilight Saga: Eclipse!
Check out International Editions in foreign languages, with regional cover art.
Featured items include Fan-made quilts, unique Forks-centric pieces, and gifts from Volterra, Italy – home of the Volturi!
Tons of photo-op areas so bring your camera!
Want to meet Chuckesmee – the actual animatronic doll almost used in Breaking Dawn 2?
She lives right here in Forks, Washington!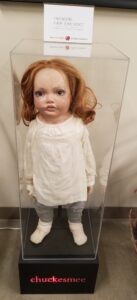 At the Forever Twilight in Forks Collection, view screen-worn costumes and actual props used by your favorite saga actors. This collection features a blend of book, movie and unique Forks-centric pieces, including authentic movie props and costumes, Twilight Saga novels from all over the world, an art piece made of Twilight Saga books, a backdrop for photo ops and other interesting memorabilia right in the heart of downtown Forks, Washington at the Rainforest Arts Center – located at our only traffic light! Entry to the gallery is free, but donations are gladly accepted.
We also are looking for Twilight super-fans for our docent program! To learn more, click here.
Forever Twilight in Forks Collection
Physical address: Rainforest Arts Center Alcove, 11 N. Forks Avenue
Mailing address: P.O. Box 1249
Forks, WA 98331
360-374-2531
2020 Gallery Schedule
(Please note: Due to COVID-19, Washington Governor Jay Inslee has closed recreational facilities effective March 16, 2020. Currently we are in Phase 2 and can reopen in Phase 3 so please stay tuned…)
OPEN Noon – 4 pm
FREE ADMISSION
January 1 to May 16
Friday and Saturday (Closed Sunday – Thursday*)
Open additional days on these holiday weekends:
January 3, 4, 5; January 17, 18, 19, 20; February 14, 15, 16, 17
May 17 to September 7
Thursday through Monday (Closed Tuesday and Wednesday*)
Please note: We are closed on Saturday, July 4
September 8 to September 13
Forever Twilight in Forks Festival Schedule
Tuesday through Thursday, September 8 – 10 Open 10 am – 4 pm
Friday, September 11 Open 10 am – 2 pm
Saturday, September 12 Open 4 – 7 pm
Sunday, September 13 Open Noon – 4 pm
September 14 to December 31
Friday and Saturday (Closed Sunday – Thursday*)
Open additional days on these holiday weekends:
October 9, 10, 11, 12; November 27, 28, 29; December 26, 27
Please note: We are closed on Friday, December 25 for Christmas
*Please call for a viewing
Donations gladly accepted
This gallery is operated by Forks Chamber of Commerce. For more information, or to schedule a viewing please contact:
director@forkswa.com or 360-374-2531