Welcome to the Forever Twilight in Forks Collection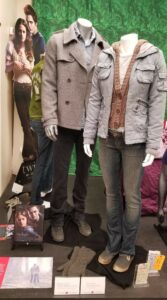 View costumes and props seen in the five Twilight films including screen-worn Bella, Edward, and Jacob costumes! Snap a pic with Bella's Graduation Quilt, international Twilight editions, and Chuckesmee!
Open year-round and FREE at our Rainforest Arts Center!
Public support gladly accepted.
Featured items include Fan-made quilts, unique Forks-centric pieces, and gifts from Volterra, Italy – home of the Volturi!
Tons of photo-op areas so bring your camera!
Want to meet Chuckesmee – the actual animatronic doll almost used in Breaking Dawn 2? She lives right here in Forks, Washington!
Forever Twilight in Forks Collection
Rainforest Arts Center Alcove
11 N. Forks Avenue (Entrance on Division Street)
Forks, WA 98331
360-374-2531
2021/2022 Winter Schedule
**We close at 2pm on Christmas Eve, closed on Christmas & New Year's Day**
September 17, 2021 – May 14, 2022
OPEN Friday & Saturday Noon – 4pm
(last entry at 3:30pm)
We allow eight visitors in the gallery at one time. First come, first served.
The FTF Collection is free to enter. We operate this gallery with public support and we are very appreciative of your support to keep it going. If you wish to contribute while at the gallery, we accept cash and checks in our jar, credit cards through our Square terminal, and we are on Venmo @ForksWA. Thank you!
ADDITIONAL VIEWING INFORMATION
We are happy to schedule additional viewings of the Collection as follows:
WINTER SCHEDULE: Additional viewings available Monday through Thursday at 2pm, subject to staffing availability. We don't schedule any additional viewings on any other days (Friday, Saturday or Sunday).
SUMMER SCHEDULE: Additional viewings on Tuesdays and Wednesdays at 2pm, subject to staffing availability. We don't schedule any additional viewings on any other days (Thursday through Monday).
The gallery is free. Public support through contributions is very appreciated. Contributions can be made with cash, checks, credit cards and Venmo.
Please contact Director@ForksWA.com to schedule an additional viewing. 24 hours in advance preferred.
This gallery is operated by Forks Chamber of Commerce. For more information please contact Director@ForksWA.com or 360-374-2531

Chuckesmee can't wait to meet you!