Day 2: Around Forks and LaPush
Day 1 – Day 2 – Day 3 – Day 4 – Day 5 – 5 Day Guide Home Page
---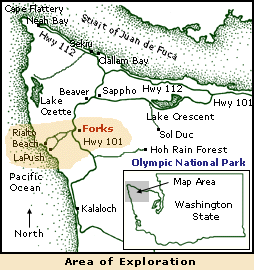 Forks is situated on a broad prairie 14 miles from the ocean. About 5,000 folks live in the area, and you'll find many restaurants, lodgings, shops and services in this friendly, rural community. At the north end of Forks, look for Tillicum Park featuring public pickleball, basketball, and tennis courts, covered picnic area and children's playground. In the middle of town at our only stoplight – you will find the Forever Twilight in Forks Collection – a gallery of actual props and costumes used in the five Saga films.
Near the south edge of town you'll find the Forks Visitor Information Center, the Forks Timber Museum which features

features an authentic fire lookout tower, a 9-foot cook stove from a logging camp and exhibits of pioneer and regional history. Open seasonally or by appointment (360) 374-9663. Look for the
Forks Loggers Memorial with its 12-foot tall carved wood logger. The complex offers gardens and
forest paths
that link to the
UW Olympic Natural Resources Center
.
Free Logging and Mill Tours sponsored by Forks Chamber of Commerce depart from the Forks Visitor Information Center on Wednesday each week from late May through late August.
Step aboard a real our shuttle bus for a 3 hour tour of a mill, and logging, thinning & managed forestry sites narrated by volunteer guides. Reservations are advised as seating is limited. Call (360) 374-2531 to reserve space.

Along the Bogachiel River

Hiking on Rialto Beach

Forks Timber Musuem
West of Forks, visit Rialto Beach on the north side of the Quillayute River. This drive-to beach is a beautiful spot to enjoy the surf and watch shorebirds, eagles and seals. The 1 1/4 mile trek north to "Hole-in-the-Wall" begins here. This hike is only accessible at low-tide.
On the south side of the river is the Quileute Indian village of LaPush and First Beach, a mile-long crescent known for surfing-size waves and great whale watching, especially from February through April. Kayakers, surfers and seals often add to the view. This hospitable community offers a marina from which fishing charters operate in season, along with restaurant and lodging facilities. Second Beach, just east of LaPush, is popular with photographers and is reached by way of a .7 mile forested trail that leads to a 2-mile long sandy stretch of beach – watch for the eagle nest above the tree line.
Third Beach is a mostly-level 1.5 mile trail through natural second growth forest, a result of winds up to 170 mph in January 1921.The "21 Blow" leveled nearly 8 billion board feet of timber, enough to construct 600,000 3-bedroom homes. In the fall, mushrooms flourish under the forest canopy on these trails.
The Sol Duc Salmon Hatchery, 13 miles north of Forks, has interpretive displays, river access and picnic areas. In the fall, adult fish can be seen in the trap located past the water-cooling tower and large pond toward the river.