When:
February 22, 2020 @ 5:45 am – 6:45 am
2020-02-22T05:45:00-08:00
2020-02-22T06:45:00-08:00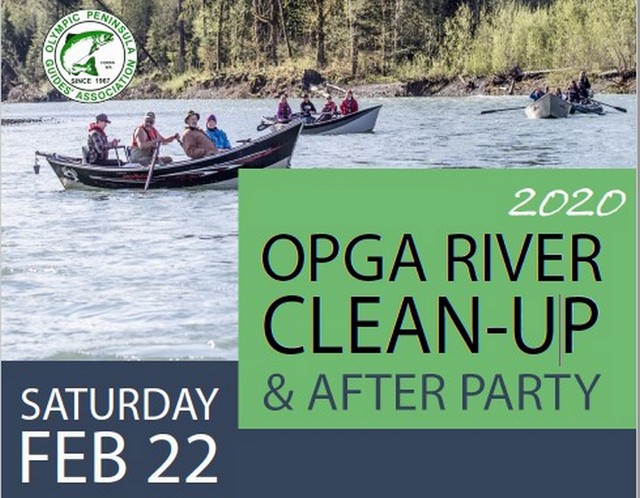 On Saturday, February 22, the Olympic Peninsula Guides' Association (OPGA) is hosting its Annual River Clean-up with an after party at Blakeslee's Bar & Grill.
If you would like to volunteer for the river clean-up, stop by Forks Outfitters (950 S Forks Ave) anytime between 5:45 a.m-8:00 a.m. where a table will be set up outside with a sign-up sheet, instructions, garbage bags and donuts! If you are already planning on being on the river, swing in and pick up a bag or two to do some clean up during the day. If you just want to come out and help keep our beautiful area trash free we will have some problem areas pinpointed that won't require boat access, just make sure to bring work gloves and clothes that can get dirty. $150 in cash prizes will be given to the person(s) who pick up the most garbage from the river!
The after party starts at 6:30 p.m. at Blakeslee's Bar & Grill (1222 S Forks Ave) and will include a 50/50 raffle (with proceeds benefitting the OPGA) and announcement of the River Clean-up prize(s).
Blakeslee's Bar & Grill and Forks Outfitters are sponsoring these events.
If you have any questions please contact Ravae at 360-485-3334 or info@olympicpeninsulaguidesassociation.com or check out our Facebook page: www.facebook.com/opgaforks