When:
February 13, 2016 @ 1:00 pm
2016-02-13T13:00:00-08:00
2016-02-13T13:30:00-08:00
Where:
Clallam Bay Streets
Parade starts at Weel Road Deli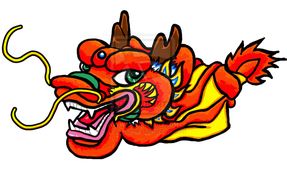 9th Annual Dragon Parade for the Chinese New Year
Come one, come all. Parade the streets of Clallam Bay we dance our "dragon". Wear colorful clothes, oranges, yellows and red, shake noise makers and enjoy lots of laughter.
A group of fun loving and fearless folk have been dancing the dragon for nine years now. Different folk build these unique creatures out of paper Mache, paint and decorate them.
Drive, walk or run with us, great to shed those winter blues and house bound feelings of winter…This is a purely fun event, starting at 1pm at Weel Road Deli, moving through businesses, up and down the streets of town until settling at the green building, the Three Sisters Art Gallery and Lighthouse Massage.
At this point the real movers and shakers appear from under the skirts and head of the magical dragon to find a sumptuous pot luck.
After that…dance and play to the wonderful sounds of THERAPY SESSION, our local Forks group, until you can dance no more.
Everyone is welcome. Join the fun!
The year of the MONKEY!!!!!