When:
May 1, 2017 @ 10:00 am
2017-05-01T10:00:00-07:00
2017-05-01T10:15:00-07:00
Where:
Peninsula College at Forks
481 South Forks Avenue
Forks, WA 98331
USA

Contact:
Matt Teorey
(360) 417- 6269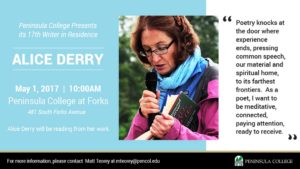 Alice Derry
Derry has been writing and publishing poetry for the last 40 years, with four volumes and three chapbooks to her name. Her newest manuscript, Hunger, has been accepted by MoonPath Press for publication in fall of 2017. She has read throughout Washington and Oregon, in addition to points east and south. Of her most recent book, Tremolo (Red Hen Press, 2012), Tess Gallagher has written: "Tremolo is a tour de force of vibratory power that marks Alice Derry as having come into her own as one of our very best poets." Derry is also currently at work on a further manuscript of poems.
"It's indeed an honor to be invited to a program I hosted for 10 years, Derry said. "My goal is to live up to the rich tradition of literature which the college has been fortunate to be part of."
For almost 30 years, Derry was a distinguished professor at Peninsula College. As a director of the Foothills Writers Series, she was a major force behind inviting several authors a year to the campus, in addition to local readings. For 10years she was in charge of the Writer in Residence program and faculty adviser for the college's annual literary magazine, Tidepools. In 2013, she helped organize the 75th Raymond Carver Birthday Celebration and gave the keynote address.
During her residency period, Derry will be on PC campuses and in the community, reading poetry, talking about poetry, and helping others write poetry. She is pleased to team up with local tribal members presenting their art alongside hers.
"All the arts have common ground," Derry said. "A teacher of one might be a student of another. That has certainly been the case for me." Derry is also excited to once again work with Dr. Kate Reavey in her writing workshops.