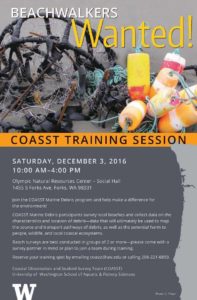 COASST Training Session
Help make a difference for the environment by collecting data for the Coastal Observation and Seabird Survey Team (COASST).
COASST is a citizen science project dedicated to involving volunteers in the collection of high quality data.
On December 3rd, from 10am -4pm

Meeting at the University of Washington's Olympic Natural Resource Center in Forks WA
COASST will be hosting a free marine debris survey training session.
For more information visit