When:
February 5, 2020 @ 4:00 pm – 6:00 pm
2020-02-05T16:00:00-08:00
2020-02-05T18:00:00-08:00
Where:
Peninsula College Forks Campus
481 S Forks Ave
Forks, WA 98331
USA

Bootstrap Business Course – Forks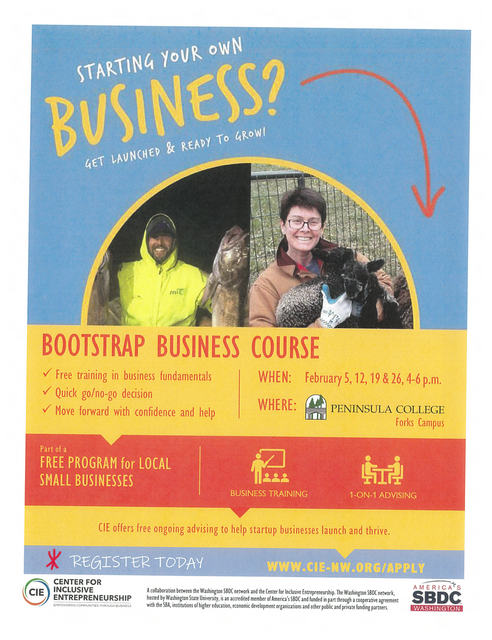 LAUNCH AND GROW YOUR SMALL BUSINESS
Our Bootstrap Business Course will help you quickly "kick the tires" on your new business idea. In just four 2-hour classroom sessions, including one-on-one homework assistance with our Bootstrap Business Advisor, you will learn to apply basic business concepts to know if your business goal is realistic and achievable.
Session 1 – The Foundation: Program Orientation, Readiness Mindset and Personal Finance

Session 2 – Opportunity Discovery: How You Bring Value to Your Target Market

Session 3 – Money In and Money Out: Projecting Sales and Costs

Session 4 – The Bottom Line: Projecting Cash Flow and Break Even
Join us, and become part of a community of bootstrap business owners working to create a vibrant local economy!
When: February 5, 12, 19 and 26 from 4-6 p.m.
Where: Peninsula College Forks, 481 S Forks Ave, Forks, WA 98331
Who: Mike Skinner, CIE Executive Director, and Rick Dickinson, North Peninsula Business Advisor
Got a Business Idea? Let's Make it Happen.
CIE's Business OnRamp offers a free Bootstrap Business Plan Course to help you figure out if your business idea makes sense – and makes a profit. In our four-week course you will learn the basics of how to evaluate your business and take your business idea from dream to reality.
We offer monthly trainings at convenient locations around the north Olympic Peninsula. Each class is four two-hour sessions, and includes one-on-one homework help with our OnRamp Business Advisor. Join us and take the first step toward owning your own business.