When:
April 23, 2016 @ 4:30 pm – 10:00 pm
2016-04-23T16:30:00-07:00
2016-04-23T22:00:00-07:00
Where:
Sunland Golf Club in Sequim
109 Hilltop Dr
Sequim, WA 98382
USA

Cost:
$80 per person & $70 For all Veterans
Contact:
Betsy Schultz (360) 460-7848 or
Cathy Smith 360-640-4303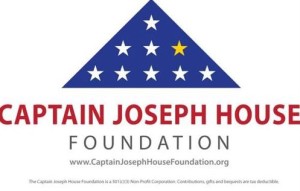 Captain Joseph House Foundation 4th Annual Auction and Dinner
The event is a sit down gourmet dinner (entrees are being determined), complimentary glass of wine, live auction, silent auction and raffle and lots of wonderful conversation and an evening to meet with family and friends and make new connections!
The Captain Joseph House Foundation is a one-of-a-kind non-profit corporation created to lend support to the
Gold Star Families
of our military's Fallen heroes. The Foundation has been forging new horizons in extended care for these Families. The House offers them a place to start rebuilding while reflecting on things past and future, and also sharing their experiences with other Gold Star Families.We want our Gold Star Families to know that we are committed to helping them rebuild and care deeply about their daily challenges and that the sacrifice of their loved one will not be forgotten.
The power of a donation will support these Families and forever honor our military men and women that have lost their lives in combat.
Donations may be pared up because space is limited.