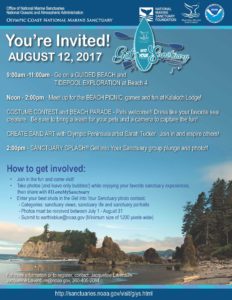 Celebrate National Get Into Your Sanctuary Day at Kalaloch! 
Start the day with Olympic Coast National Marine Sanctuary experts on a guided beach walk and tidepool exploration. Participants should meet at top of Beach 4 trailhead at 9:00am.
Be sure to wear appropriate shoes and clothing.
Starting at noon, join us at Kalaloch Lodge for a beach picnic, games and fun! There will be a costume contest and beach parade – Pets welcome!! Dress like your favorite sea creature. Be sure to bring a leash for your pets and a camera to capture the fun! There will also be beach sand art with Olympic Peninsula artist Sarah Tucker. This will be an interactive activity so bring your creativity! At 2:00pm there will be a group Get Into Your Sanctuary Day plunge for those not afraid to get their feet (or head) wet!
All events are open to the public and free.
Food will be available at Kalaloch Lodge picnic and restaurant for a fee.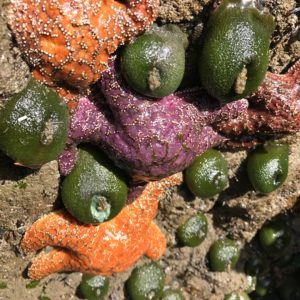 Click on either picture and get more information