Authors Brenda Carlsen and Pam Fries will be visiting Chinook Pharmacy on December 7th to sell and sign their children's books. Pam, Author and Illustrator of "Something's Eating the Garden", will be at Chinook Pharmacy between 3-5 and
Pam Fries is an award-winning Artist, as well as Illustrator and Author of the much-loved children's book, "Something's Eating the Garden". Her book has been featured on Fox 15 Kidlit TV and she has been a guest on multiple podcast.
"Something's Eating the Garden", is a fun adventure with "Papa" and a child, into his amazing garden. The adventure begins when Papa discovers that something is eating his garden and child solves the mystery by guessing what it could be. There are guesses like a raccoon, pig, or even crocodile, only to find out they are not even close. The answer is not even on the radar!
Pam lived in Forks for many years with her husband Phil and their 2 sons. After the death of her husband she published and began speaking in schools and to Women's groups. Her journey has been one of pain and Grace. She now resides in Port Angeles where she enjoys her 5 grandchildren, dog, and 25 chickens.
Brenda, Author of Wascana's Amazing Journey will be there between 6-8pm.
Come on down and see them.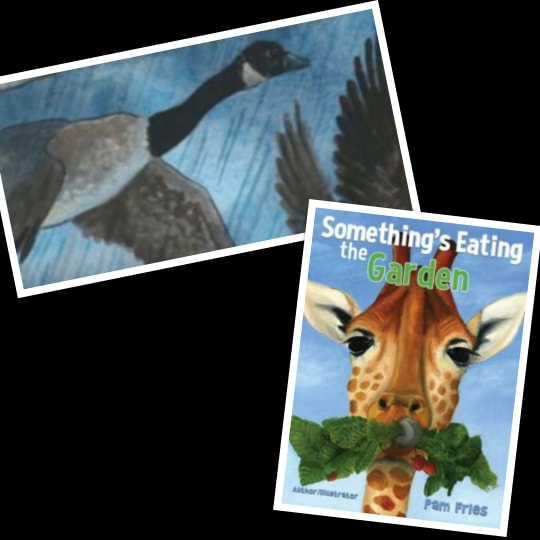 Brenda Carlsen has published her first Children's book called "WASCANA'S AMAZING JOURNEY." It is a story of a young CANADA goose who flies south for the winter with his family and friends. During the flight, one of his wings becomes injured and he is unable to continue the flight. A boy discovers the injured goose, WASCANA, and they spend the winter together having lots of adventures while WASCANA'S wing becomes powerful again. This story is full of laughs and is geared towards three to nine year old and displays examples of encouragement, friendship, compassion, belonging and letting go.
Brenda has shared her book with children at libraries, preschools, Montessori schools, elementary schools throughout Washington State and Canada. She was an exhibitor at the Washington State Home School Convention in June and the Pacific North West book sellers Association trade show in Portland in October. She was interviewed on radio station KONP in July and is a member of SCBWI, (Society of Children's Book Writers and Illustrators) based in Los Angeles.
The beautiful pictures in "Wascana's Amazing Journey" were illustrated by Doina Cociuba, a renowned artist in her own right and children's book illustrator. She is from the Seattle area.
Brenda has been a nurse for over 40 years; 32 of those years were spent working at Forks Community Hospital. While caring for many children and adults that have experienced tragedies and illnesses she has been a part of the joy and happiness resulting from the resilience of the human spirit.
As a child, Brenda played along the shores of Wascana lake in southern Saskatchewan, where thousands of Canada geese called their home. Every year the geese escaped the brutal, 50 below winters by flying south. Brenda, along with many others often gaze up to the sky when we hear that familiar "HONK HONK" of geese as they either head south in the fall or return in the spring. These memories and well-known sounds inspired Brenda to write the story of "WASCANA'S AMAZING JOURNEY."