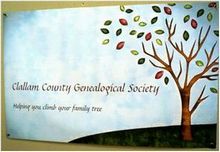 The Clallam County Genealogical Society (CCGS) has recently purchased a building at 402 E. Lauridsen Blvd. in Port Angeles 98362-7952. The larger facility was needed to house an expanding collection of family history resources from the County and around the world. The larger center will also ensure the continuation of CCGS's mission to serve the community as a Genealogical Research and Educational Center. Although we are presently in the process of renovation and moving our collection of books and records, the facility will be open for public use by February first.
We are looking forward to greeting young and old at our Grand Opening on April 6th from 1 – 4 P.M. The ribbon cutting ceremony will feature a wine, punch, and cheese open house, and the delightful Port Angeles High School string Quartet.
Clallam County Genealogical Society would like to acknowledge the early settlers of our County and their many contributions to the community by displaying photos of those who played a part in its early history. We are asking for photographs of family members to be copied and put on display. Digital or scanned copies of good quality are acceptable, and could be emailed to us. If it is more convenient, we can come to you and make a digital copy from photo albums. Please contact us if you would like to contribute photos.