When:
June 3, 2015 @ 7:00 pm
2015-06-03T19:00:00-07:00
2015-06-03T19:30:00-07:00
Where:
Peninsula College at Forks
481 South Forks Avenue
Forks, WA 98331
USA

Contact:
Forks Peninsula College
360-374-3223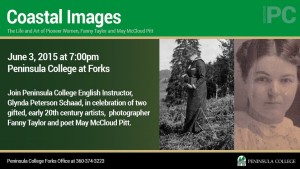 Coastal Images: The life and Art of Pioneer Women
Join Peninsula College English Instructor, Glynda Peterson Schaad,
in celebration of two gifted, early 20th century artists, Fanny Taylor
and May McCloud Pitt.
Ancient cultures from the Middle East to the Americas valued and
encouraged in their people a time in the wilderness, a time seeking
a personal vision. May McCloud's vision quest took her to the most
remote, most spectacularly, most unbelievably lonely places on the
planet–the lighthouses of the Pacific Coast. From this time of solitude,
contemplation and self-imposed confinement, May
produced a powerful body of work: poetry, traditional in style but
progressive and contemporary in theme.
Fanny Taylor's life also begs for recognition, not because she
changed history, but for the slice of history she preserved in her photos
and journal text. Armed with bulky cameras, Fanny seized every
opportunity to capture the spirit of the landscape, seascape, and face
of the Peninsula's West End. In addition to the treasure of photographs
Fanny left us, she was also responsible for the conservation
of Quileute artifacts preserved at the Smithsonian.