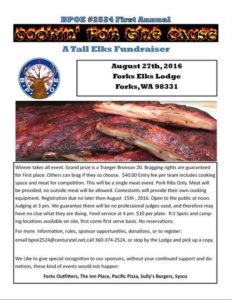 Cookin' for the Cause
August 27th
Open to public at NOON
Judging at 3pm
Winner takes all event. Grand prize is a Traeger Bronson 20. Bragging rights are guaranteed for First place. Others can brag if they choose.
$40 per team which includes cooking space and meat for the competition. This will be a single meet event. Pork ribs only.
Meat will be provided, no outside meat allowed. Contestants will provide their own cooking equipment.
Registration is due no later then August 15th.
We guarantee there will be no professional judges used, and therefore may have no clue what they are doing.
Food service at 4pm $10 per plate. R.V spots and camping available on site, first come first serve basis.
Special recognition to our sponsors, without their continued support and donations, these kinds of events would not happen.
Forks Outfitters, The Inn Place, Pacific Pizza, Sully's Burgers, and Sysco