When:
June 20, 2015 @ 1:00 pm
2015-06-20T13:00:00-07:00
2015-06-20T13:30:00-07:00
Where:
Sv. Nikolai Monument
5333 Upper Hoh Road
Forks, WA 98331
USA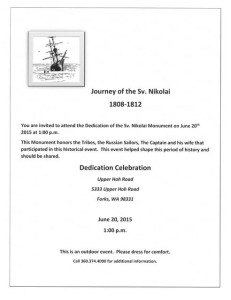 Dedication Celebration Journey of the Sv. Nikolai 1808-1812
You are invited to attend the Dedication of the Sv. Nikolai Monument on June 20th, 2015 at 1:00p.m.
This Monument honors the Tribes, the Russian Sailors, The Captain and his wife that participated in this historical event. This event helped shape this period of history and should be shared with all.
Please join us for the Celebration.
This is an out door event.
Please dress for comfort.