When:
November 6, 2015 @ 7:00 pm – 9:00 pm
2015-11-06T19:00:00+00:00
2015-11-06T21:00:00+00:00
Where:
ONRC: Hemlock Forest Room
1455 S Forks Ave
Forks, WA 98331
USA

Contact:
Frank Hanson
360-374-4556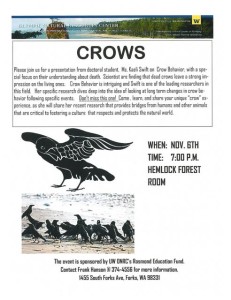 Crows
 A presentation by the University of Washington's School of Environmental and Forest Sciences' doctoral student, Ms. Kaeli Swift. Ms. Swift works under the guidance of Dr. John Marzluff, Professor of Wildlife-Habitat Relationships: Avian Social Ecology and Demography.
Kaeli has been interested in birds and animal behavior all her life. She is excited to share her enthusiasm and research that the emergence of corvids as a model system for questions about animal and social intelligence allows her to follow her passions.
Come join us for this fantastic presentation of research studies that provide bridges from humans to other animals that are critical to fostering a culture that respects and protects the natural world. No matter your feelings for them (corvids), nearly everyone has a story about crows. The fact that they are conspicuous and thrive in all kinds of human dominated environments, means that crows are a uniquely accessible animal, and offer a wealth of opportunities to connect people of all interests and backgrounds to science. It is Kaeli's hope that her team's research will provide a more compassionate lens with which to understand crows, and contribute to a growing movement of corvid enthusiasts.