When:
May 19, 2017 @ 7:00 pm
2017-05-19T19:00:00-07:00
2017-05-19T19:15:00-07:00
Where:
Olympic Natural Resources Center, Hemlock Forest Room
1455 South Forks Avenue
Forks, WA 98331
USA

Contact:
Frank Hanson, Education, Outreach, & NPCLE Facilitator
1-360-374-4556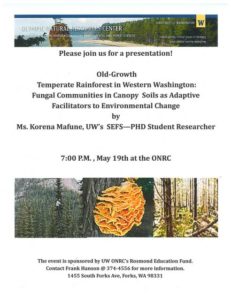 Evening Talk: Korena Mafune: Old-Growth Temperate Rainforests in Western Washington: Fungal  Communities in Canopy Soils as Adaptive Facilitators to Environmental Change
Korena Mafune received her B.S. in Restoration Ecology and Environmental Horticulture from the University of Washington in 2013. She has always been passionate about Washington's beautiful forests and a bit stubborn about staying in her home state. So directly upon completion of her B.S., she applied and was accepted to UW's School of Environmental and Forest Sciences (SEFS) graduate program. She completed her M.S. in 2015 and is now in her 2nd year of her PhD research in SEFS. She works closely with Drs. Daniel and Kristina Vogt, who run the interdisciplinary Vogt Lab of Ecosystem and Conservation Ecology. Her master's and current PhD research focus on canopy soils developing on branches of Acer macrophyllum, located in Washington State's old-growth temperate rainforests. She is particularly interested in exploring the host tree's adventitious rooting network, while determining if their fungal associates act as adaptive facilitators to climatic extremes.
For this evening talk series, she will discuss her current research, and why she is determined to explore these forests from what we would usually call a 'birds-eye view'. Her presentation will build from the ground up, as she discusses the life-long mutualistic relationships between plants and fungi, and how they contribute to the unique characteristics of our old-growth temperate rainforests.  Over the past three decades, organic canopy soils and adventitious roots have been reported in temperate old-growth rainforests. Despite these reports, experiments have not elucidated their role in the functioning and resilience of these rainforests to droughts. Evidence shows adventitious roots form fungal mutualists, but not how diversity and/or functional roles vary compared to the forest floors. The aim of this research is to determine if the community diversity of mutualistic fungi in canopy soils enhance the resilience of Acer macrophyllum to drier climates vs. communities found in the forest floor, and if these communities respond to pulses of phosphorus, in respect to the varying soil characteristics found in canopy vs. forest floor soil ecosystems.  Preliminary research extracted fungal DNA from forest floor and canopy root-tips of old growth A. macrophyllum located in an old-growth temperate rainforest of Olympic National Park.  Sequences suggested fungal diversities differ between canopy and forest floor soils. To test the functional roles of these diverse mutualists, a larger-scale experimental manipulation of water, DNA analyses and imaging is being pursued.  Her research project will experimentally reduce or increase precipitation levels on 18 old-growth A. macrophyllum trees in two similar temperate rainforest stands.  During the experimental drought manipulation, fungal communities from both forest floor and canopy rooting systems will be sequenced and stained for fluorescent microscopy.  Also, changes in available Phosphorous will be assessed in drought to determine if seasonal rainfall regimes and resulting nutrient availabilities are a determining factor in the structure of these fungal communities.
Please join us on May 19th, Friday night, at 7:00 @ Hemlock Forest Room.  Evening Talks at ONRC is funded through the Rosmond Forestry Education Fund, an endowment that honors the contributions of Fred Rosmond and his family to forestry and the Forks community.    Refreshments will be served and a potluck of your favorite dessert is encouraged.  For more information contact:  Frank Hanson at 374-4556 or fsh2@uw.edu.