When:
2018-06-30T00:00:00-07:00
2018-07-01T00:00:00-07:00
Contact:
Forks Chamber of Commerce
360-374-2531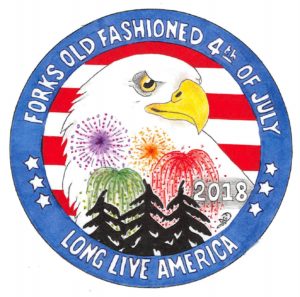 Forks Old Fashioned 4th of July Celebration
"LONG LIVE AMERICA"

A great Independence Day celebration with breakfast, fun run, kiddies parade, Grand Parade, salmon bake, demolition derby, music in the park with fun events like an arts & crafts show, horseshoe & cribbage tourneys, frog jump, kiddie playday & more that concludes with a fantastic fireworks show on Tuesday night.
Come on out rain or shine!
2018 Parade Application -Click here to download PDF

Saturday, June 30th
8:30am Forks 4th of July Fun Run – Registration, Race begins at 9am at parking lot across from Forks Coffee Shop. Walk or Run 1 mile-5K-10K with proceeds benefitting Spartan Basketball Program; Entry Fee $10 (race only) or $20 for race and shirt. Pre-register by calling 360-780-0310 by June 20th. T-Shirts for pre-registered runners/walkers only.
9am-Done Archery Tag, Tillicum Park; $5 per person; Teams of 5. Ages 12 and up. Brought to you by Forks Old Fashioned 4th of July. Contact Mike Rowley for more details.
Monday, July 2nd
6pm Red, White and Blue Bingo, VFW Hall, 110 Spartan Ave; Doors open at 6pm, Bingo starts at 7pm; 360-640-2581
Tuesday, July 3rd
Judging of Window Decorating Contest for Businesses; Entries must be finished by 10am with winner announced Saturday at Moonlight Madness. Sponsored by West End Business & Professional Association (WEB&PA); 360-374-3311
9am-1pm Entries accepted for Far West Art League Art, Photo & Craft Show, Rainforest Arts Center, 35 N. Forks Ave; 360-460-5171. Entry forms available at Olympic Graphic Arts & Home Slice Take-n-Bake in Forks.
9am (Registration), Tourney begins at 10am 3 on 3 Basketball Tournament, Forks High School Gym; Fundraiser for FHS Basketball Program; $10 per player; Boys and Girls Divisions. More info 360-780-0310
Independence Day ~ Wednesday, July 4th
8am Check-in for Grand Parade at Forks Outfitters parking lot
7-10am Elks Annual Forks 4th of July Breakfast, Forks Elks Lodge, 941 Merchant Rd, Cost: $8 Adults; $6 Kids & Seniors; 4 & Under – Free; 360-374-2524
10am Sign-ups & Judging (optional) starts for Kiddies Parade, Peninsula College parking lot, 481 S. Forks Ave,360-640-8211
10am-4pm Far West Art League Art, Photo & Craft Show, Rainforest Arts Center, 35 N. Forks Ave; 360-460-5171
10:30am Final Entries & Judging begins for Grand Parade
11:30am Line Up, Kiddies Parade, Peninsula College parking lot, 481 S. Forks Ave, sponsored by Forks Emblem Club; 360-640-8211
11:45am Kiddies Parade begins, Peninsula College
Noon FORKS GRAND PARADE begins from Forks Outfitters parking lot
1-3pm Dodgeball Tournament – a Forks Wrestling Fundraiser at Tennis Courts, Tillicum Park, Entry Fee $40 per team; Ages 12 and up, Pre-register by phone or at event; 360-640-4085
1-4pm Salmon Bake, Tillicum Park, sponsored by the Forks Lions Club, Cost TBA; 360-640-2062
** Are you a veteran? Ask about the "Buy A Veteran A Lunch" program when you eat at participating vendors in the Park after the parade! Please call 360-374-3311 for more information **
2-5pm Forks Visitor Information Center OPEN, 1411 S. Forks Ave; 360-374-2531
2-5pm Forks Timber Museum OPEN, 1421 S. Forks Ave; 360-374-9663
3pm Demolition Derby, Tillicum Park Arena, gates open at 2pm – Tickets: $10 at gate or buy in advance at Forks Youth League Fireworks Stand located at the corner of Forks Avenue & Bogachiel Way
6-7pm Patriotic Readers Theater, VFW Hall, 110 Spartan Ave; Come for a presentation on why we celebrate our independence! FREE
Dusk FORKS FIREWORKS DISPLAY begins at Tillicum Park
Friday, July 6th
5pm Bean Bag Toss, Tillicum Park, Entry Fee $30 with 1/2 going to Make-A-Wish Foundation; 360-870-1100 to pre-register
Saturday, July 7th
8:30am Horseshoe Tournament Sign-Ups at Tillicum Park, Tourney begins at 9am; Entry Fee $10; 360-374-5323 after 3pm
10am-3pm Forks Open Aire Market; Umpqua Bank Parking Lot, 1020 S. Forks Ave; 360-374-6918
10am-7pm Far West Art League Art, Photo & Craft Show, Rainforest Arts Center, 35 N. Forks Ave; 360-460-5171
5pm Frog Jump, Tillicum Park; 360-640-8169
6pm Cribbage Tournament, VFW Hall, S. Spartan Ave., Entry Fee $6; 360-374-5534
6-8pm Taste of Forks Grill Off; Forks Assembly of God, 81 Huckleberry Ln., Entry Fee: $10 per person, $20 per family. 360-374-6909
6-10pm Street Dance; Forks True Value Parking Lot; Sponsored by Forks Abuse; 360-374-6411
7-9pm Far West Art League Art, Photo & Craft Show, Rainforest Arts Center, 35 N. Forks Ave; 360-374-5137
7-10pm Forks Open Aire Market, Downtown Forks; 360-374-6918
7-11pm Moonlight Madness at Forks Area Merchants Forks Ave closed between Calawah and Bogachiel featuring music, vendors, fun for the kids and more! Sponsored by WEBPA; 360-374-3311
Sunday, July 8th
Noon-2pm Kiddies Play Day at Tillicum Park, sponsored by the Forks Lions Club; 360-640-3123/360-780-2032
Noon-4pm Far West Art League Art, Photo & Craft Show, Rainforest Arts Center, 35 N. Forks Ave; 360-460-5171
Forks Old Fashioned 4th of July Committee
Contact Information: Chairman, Mark Soderlind
Forks Old Fashioned 4th of July Committee
PO Box 881 • Forks, WA 98331 • (360) 640-4298 or (360) 640-8211