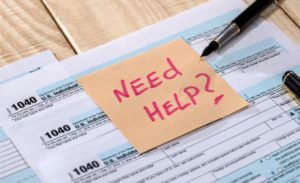 FREE TAX PREPARATION
IRS-certified volunteers provide free tax preparation and e-filing
for low-and-middle-income taxpayers of all ages.
FORKS CITY HALL
Council Chambers; 500 East Division Street
Every-other-Saturday, from 10am—3pm:
(February 2 & 16, March 2 , 16 & 30,and April 13)
No appointment is required. First-come, first-served.
Contact Hearst Coen, 360-452-6541, if you have any questions.
Please bring the following with you to the TAX-AIDE site:
Photo ID (required)
Social Security Cards for taxpayer, spouse, and dependents (required)
Documentation of health insurance coverage for everyone on the tax return.
Bring Form 1095, if received.
W-2s, 1099s and all documents necessary to complete your 2018 return
Bank check with routing and account numbers, if direct deposit desired
Your 2017 Tax Return
The TAX-AIDE program is sponsored by the IRS and the AARP Foundation.