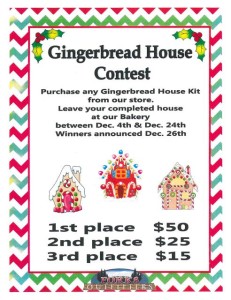 Ginger Bread House Contest at Forks Outfitters
You must purchase your gingerbread house kit at Forks Outfitters.
Go get one and create your magical gingerbread house. Get building.
Once the construction is over, bring your house to Outfitters' Bakery between Dec. 4 and Dec. 24.
There will be cash prizes for 1st, 2nd and 3rd place ($50, $25, $15)
The winners will be announced Dec. 26.