When:
November 11, 2012 @ 7:30 am – 7:30 am
2012-11-11T07:30:00+00:00
2012-11-11T07:30:00+00:00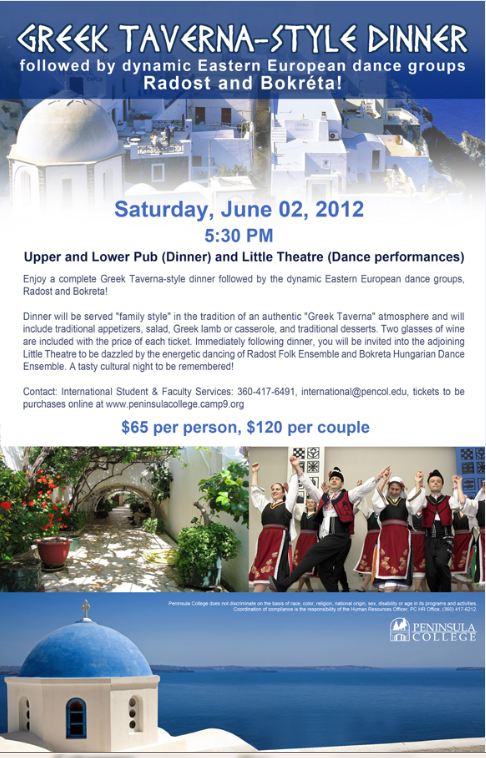 THIS EVENT IS RESCHEDULED FOR INTERNATIONAL WEEK –  NOVEMBER 10, 2012
THEME:  GREEK TAVERNA (Tαβέρνα) with Eastern European dance
Dance by vibrant Radost and Bokréta with a 'special secret' spotlight performance
Taverna menu includes:
Appetizers:
Spanakopita (Greek spinach pie)
Keftedes (taverna meatballs)
Dolmadakia (grape leave rolls)
Mains:
Greek Roasted Lamb
Vegetarian Mousska (cassarole)
Greek Pilafi (rice)
Oven-roasted potatoes
w/Greek Salad and bread
Dessert:
Ravani (Greek sweet cake)
Kourabiedes (Greek wedding cookies)
Koulourakia (Greek tea cookies)
Beverages:
2 glasses of wine (red/white)
Loganberry punch
Water/coffee/tea
NOTE: Taverna food is usually served family style in Greece, so the dinner will be served keeping with tradition.
Proceeds support Peninsula College's global awareness initiatives. 
For more information, contact International Student & Faculty Services at 360-417-7989 or international@pencol.edu
COST: $65 per person / $120 per couple
Tickets can be purchased online at:
www.peninsulacollege.camp9.org
Definition of a Taverna – Tαβέρνα:
Taverna refers to a small restaurant serving Greek cuisine, not to be confused with 'tavern'. The Greek word 'taverna' originates from the Latin word taberna ('shed' or 'hut' from tabula 'board' coming from beam or timber). As Greeks have migrated throughout the world, taverns (pl) have spread throughout with them. The tavern is an integral part of Greek cuisine and Greek culture.  Great food, wine, music, and dance are all highlights of a 'taverna atmosphere'. THE MORE THE MERRIER!!
Καλώς Ορίσατε (Kalós orísate)! Welcome!!