VIRTUAL FORKS COMMUNITY HOSPITAL TURKEY TROT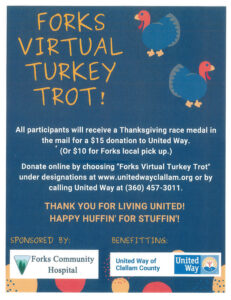 Forks Hospital United Way Committee will be doing a virtual 5K Turkey Trot this year.
All participants will receive a Thanksgiving race medal (your choice of the two shown below) for a donation to United Way
$15 via mail out or $10 for local pick up
The first 60 participants to sign up will receive a Turkey Hat too. Sign up today through November 25!
If you would like to sign up, please feel free to email Kerstin Hampton at Kerhamp@gmail.com or comment on the Facebook link below.
Don't forget to post your pictures to the FB page https://fb.me/e/1znyzBeFi