When:
April 30, 2016 @ 4:00 pm
2016-04-30T16:00:00-07:00
2016-04-30T16:30:00-07:00
Where:
Forks Branch North Olympic Library System
171 S Forks Ave
Forks, WA 98331
USA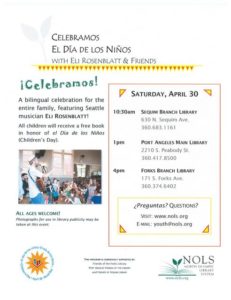 Lets Celebrate 20th Anniversary: El día de los libros
(Children's Day/Book Day)
About Eli Rosenblatt
Eli Rosenblatt is a multi-instrumentalist, performer, producer, and composer based in Seattle. His music spans the globe, incorporating sounds from Cuba, Eastern Europe, Africa, and beyond. Rosenblatt's performances create a joyful atmosphere that brings together music and movement to create an exciting, interactive experience for people of all ages. "Eli and his band visited us for the grand opening of the new children's section in October," Youth Services Librarian Jennifer Knight said. "He was tons of fun! We've had people asking when he'll be back all year and are happy he's able to help us celebrate one of our favorite holidays."
Celebrate Día!
El día de los niños/El día de los libros (Children's Day/Book Day) is a celebration of children, families, and reading that culminates each year on April 30. This special day, also known as Día, emphasizes the importance of literacy for children of all linguistic and cultural backgrounds. Every year libraries across the country celebrate Día and book diversity.