When:
April 11, 2016 @ 8:00 am – June 30, 2016 @ 4:00 pm
2016-04-11T08:00:00-07:00
2016-06-30T16:00:00-07:00
Contact:
Kaylee Weil
415-992-4778 | Cell 415-758-1650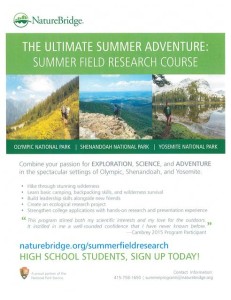 NatureBridge: Summer Field Research Course
NatureBridge's Summer Field Research Course is designed for incoming and current high school students with a passion for exploration, science, and adventure. The course combines academic and personal growth in the spectacular setting of Olympic National Park – resulting in the ultimate summer learning adventure! What an amazing way to spend part of a summer
The two sessions we have available at Olympic are:
July 10–22
August 7–19
During our Summer Field Research Course, high school students will:
Hike through stunning wilderness
Learn basic camping, wilderness survival, and backpacking skills
Create an ecological research project
Challenge themselves physically and mentally
Build leadership skills alongside new friends
Learn about ecology and natural history
Strengthen college applications with hands-on research and presentation experience
For more info https://naturebridge.org/summerfieldresearch/olympic
First come first serve.
Limited space available.

Registration required.
How to register
Session 1: https://www.eventbrite.com/e/summer-field-research-course-in-olympic-session-1-july-1022-2016-registration-19828387240
Session 2: https://www.eventbrite.com/e/summer-field-research-course-in-olympic-session-2-august-719-2016-registration-19851291748
Financial Aide available:
https://www.naturebridge.org/sites/default/files/NatureBridge%20SFRC%20Financial%20Aid%20Application_0.pdf