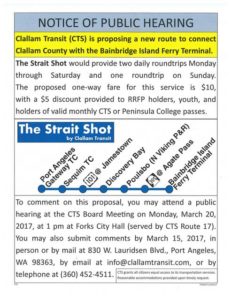 Notice of Public Hearing Clallam County Transit
Clallam Transit System service change proposal is to add Route No. 123-The Strait Shot to provide new daily service connecting Clallam County with the Bainbridge Island ferry terminal with full fare recovery. This route will provide two round trips on weekdays and Saturdays and a single route trip on Sundays, starting from the Port Angeles Gateway Transit Center and ending at the Bainbridge Island ferry terminal. There are scheduled stops at the Sequim Transit Center, Jamestown S'Klallam Tribe Campus bus stops, Discovery Bay bus stops, Poulsbo North Viking park and ride lot, and Agate Passage-Clearwater Casino bus stops. The proposed effective date is June 18, 2017.
To comment on this proposal, you may attend a public
hearing at the CTS Board Meeting.
Monday, March 20,2017, at 1 pm
Forks City Hall (served by CTS Route 17).
You may also submit comments by March 15, 2017, in
person or by mail at 830 W. Lauridsen Blvd., Port Angeles,
WA 98363, by email at info@clallamtransit.com, or by
telephone at (360) 452-4511.