When:
June 20, 2014 @ 4:00 am – 7:00 am
2014-06-20T04:00:00+00:00
2014-06-20T07:00:00+00:00
Where:
Olympic Natural Resources Center
1455 South Forks Avenue
Forks, WA 98331
USA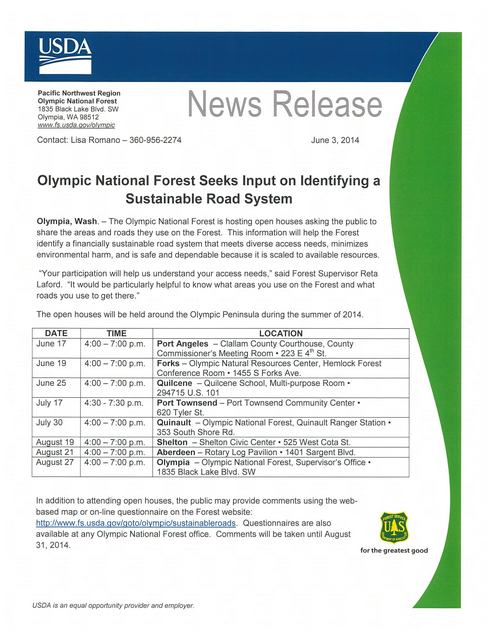 Olympic National Forest Seeks Input on Identifying a Sustainable Road System
Release Date: Jun 3, 2014
Contact(s): Lisa Romano, Public Affairs Officer, (360) 956-2274
Olympia, Wash. – The Olympic National Forest is hosting open houses asking the public to share the areas and roads they use on the Forest.  This information will help the Forest identify a financially sustainable road system that meets diverse access needs, minimizes environmental harm, and is safe and dependable because it is scaled to available resources.
"Your participation will help us understand your access needs," said Forest Supervisor Reta Laford.  "It would be particularly helpful to know what areas you use on the Forest and what roads you use to get there."
The open houses will be held around the Olympic Peninsula during the summer of 2014.  In Forks, it will be on Thursday June 19, 4:00 – 7:00 p.m., at the Olympic Natural Resources Center, Hemlock Forest Conference Room, 1455 S Forks Ave.
For an open house in your area, or for more information please click here.