When:
2018-11-01T00:00:00-07:00
2018-11-02T00:00:00-07:00
Where:
Vern Burton Center
308 E 4th St
Port Angeles, WA 98362
USA

Contact:
Olympic Peninsula Visitor Bureau
360-452-8552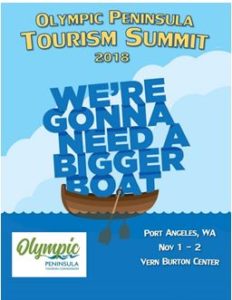 For the last few years, the Olympic Peninsula Tourism Commission's Annual Tourism Summit has focused on developing our shoulder season business, better communicating our authentic sense of place, and deepening our local and regional collaborations, the "rising tide lifts all boats" idea.
It seems to be working. The Olympic Peninsula is coming off an incredibly busy summer. We're seeing our visitors coming sooner in the year and staying later in the year. And sometimes, it even seems there are just a few too many visitors! So, what's next?
How do we start to envision the future, together? What's working? Where are the gaps? How do we look to grow tourism to the Olympic Peninsula in a thoughtful and sustainable way? What does that next chapter look like?
WEDNESDAY, October 31
12:30PM Olympic Culinary Loop "Lunch and Learn" at Red Lion Hotel Port Angeles
"Cultivating Sustainable Agritourism All Around the Loop"
Jonathan Tourtellot, CEO, Destination Stewardship Center
(requires separate registration)
4:30PM Halloween Happy Hour Pub Crawl in Downtown Port Angeles
DAY 1 Tourism Summit: THURSDAY, Nov 1
7:30AM Networking Breakfast and Vendor Showcase
Join your colleagues for coffee and conversation. "Early bird" giveaways will be special early in the morning, but you must be here early to get your name in the drawing! Meet with representatives from across the region to learn more about what's new in their areas and in the industry, as well as what is new in our vendors' worlds.
9:00AM Welcoming Remarks and Opening Session
9:45AM Morning Session
The New Tourism Marketing for Washington State
Mike Moe, Managing Director, Washington Tourism Alliance
2018 marked a significant milestone for Washington's tourism industry, as the legislature unanimously supported tourism marketing legislation to reestablish statewide tourism marketing. Hear from the Washington Tourism Alliance representative to learn what's being done, and what is planned for the future.
10:15 Coffee Break
10:30AM Olympic Peninsula Destination Assessment
Paul Ouimet, Managing Director, DestinationNEXT, Destinations International
Having completed a 360-degree destination assessment survey for the Olympic Peninsula, learn about the findings, along with major findings from a recent Future Study and industry trends. This will be the kick-off portion to the day-long workshop.
12:30PM Luncheon Session
Program: Coping with Success
Jonathan Tourtellot, CEO, Destination Stewardship Center
America's National Parks are on every outdoor-oriented traveler's bucket List. Our beloved Olympic National Park is the 8th most visited National Park in the US. At a time when travelers are rushing to see spaces before they vanish or change forever, how do we cope with the unintended consequences of that success?
2:00PM Vendor Showcase
2:45PM Olympic Peninsula Destination Assessment Workshop continues…..
Our workshop continues in the afternoon with breakout discussion sessions and roll-up-your-sleeves planning. Our goal is to identify key issues, strategic implications and potential responses to the data presented by Destination NEXT.
4:30PM Olympic Peninsula Destination Assessment Workshop Concludes
Next Steps… Discuss Follow-Up Actions / Closing Remarks
5:00PM Wrap Up
5:30PM Networking Reception
Celebrating the Olympic Discovery Trail @ Red Lion Crab House, Port Angeles
7:00PM Independent Dinner in Downtown Port Angeles
DAY 2 Tourism Summit: FRIDAY, Nov 2
7:30AM Networking Breakfast and Vendor Showcase Open
8:30AM Plenary Welcome and Introduction of the Learning Labs
8:45AM Learning Lab Sessions
Opportunity to pick two peer-to-peer learning sessions for hands on learning and dialogue on areas of interest to you.
Practical Steps for Sustainable Tourism on the Olympic Peninsula
Best Practices for Visitor Center and Volunteer Management
The New Google & How It Impacts Your Business
"Show Me the Money" – Funding Strategies and Considerations
10:00AM Coffee Break
10:00AM Panel: Working with Social Media Influencers
11:30AM Closing Remarks, Recognition, and Thank Yous
Grab-N-Go or Stay-N-Eat Lunch
Attendees are invited to stay and dine informally with associates, continue conversations, or if they need to leave, take lunch with them.