When:
October 12, 2016 @ 5:30 pm
2016-10-12T17:30:00-07:00
2016-10-12T17:45:00-07:00
Where:
Rainforest Arts Center
35 N Forks Ave
Forks, WA 98331
USA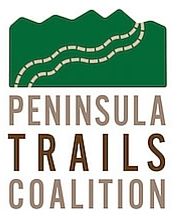 PENINSULA TRAILS COALITION TO HOLD BOARD MEETING IN FORKS
MEDIA RELEASE
    The Peninsula Trails Coalition (PTC) will hold its October board meeting in Forks, at the Rainforest Arts Center, next Wednesday, October 12, beginning at 6:30 p.m.  It will be preceded by an open house, beginning at 5:30 p.m.  The Forks community is heartily invited to join us to learn more about our work and to get updates on the development of the Olympic Discovery Trail (ODT), as it is extended further westward, ultimately to continue through the Forks area and reach the Pacific Coast at LaPush. PTC, incorporated in 1988, is the non-profit, all-volunteer founder of, and long-time advocate for, the creation of the ODT.  Working closely with the many federal, state, local and tribal jurisdictions through which the trail passes, PTC has assisted in all phases of trail routing and development and serves, through its hundreds of volunteers as a principal maintenance force for the trail.  With over 70 miles of the trail now in place, and several major sections also under way, the vision of this nationally-recognized, first-class recreational resource and economic stimulus is increasingly a compelling reality.  In acknowledgement of the ODT getting closer to Forks, PTC has now embarked to hold at least one monthly board meeting in Forks in order to connect more closely to the community and to enlist local involvement in all phases of the further future completion of the trail.  Please join us at our open house and board meeting—we look forward to seeing you!
To learn more about the trail and our work, please visit
 http://www.peninsulatrailscoalition.org/
http://olympicdiscoverytrail.com/