When:
August 24, 2012 @ 6:00 am – 9:00 am
2012-08-24T06:00:00+00:00
2012-08-24T09:00:00+00:00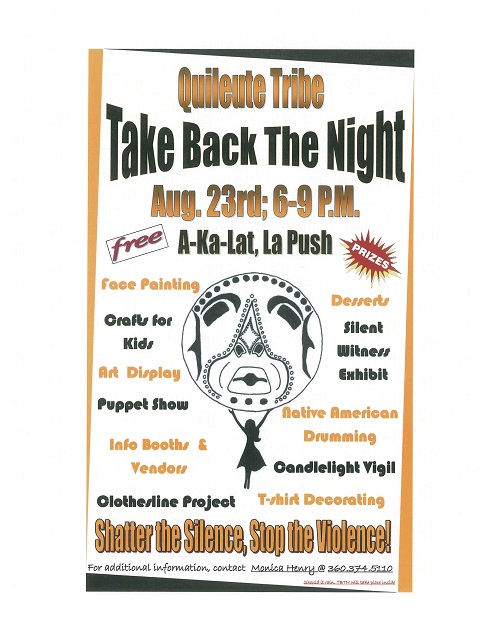 Show your support for ending domestic/dating/sexual violence/elder abuse/child abuse in our communities by participating in the Quileute Tribe's 3rd annual Take Back the Night (TBTN) event at the A-Ka-Lat in La Push, WA on August 23rd from 6:00 to 9:00 P.M.   Last year's event was a great success with approximately 400 participants and 32 informational booths.  This year's event will consist of informational booths and displays, fun activities for adults and children, prizes, Native American drumming, desserts, and a candle light vigil (luminary bags) – all FREE of charge! 
A community walk (from Lonesome Creek Store to the Quileute Tribal Office) will also be held on Aug. 23rd from 12:00 to 1:00 P.M. to raise awareness for the event.  
People of all ages and communities are encouraged to attend the Quileute Tribe's Take Back The Night and the community walk! 
Take Back the Night events are held throughout the nation and serve to create safe communities and respectful relationships by increasing public awareness of sexual violence, domestic violence, and dating violence. Take Back the Night events empower survivors in the healing process and encourage community involvement in bringing an end to such violence.
If you are interested in hosting a booth, display or activity at the event and/or would like to receive additional information, please contact the Quileute Tribe New Beginnings Program Manager, Monica Henry, at 360.374.5110 or email, monica.henry@quileutenation.org.
We are also seeking donations in order to provide prizes to participants for participating in various activities that will take place during the Take Back the Night Event.  Any support that you are able to provide would be greatly appreciated.