When:
March 3, 2018 @ 10:00 am – 6:00 pm
2018-03-03T10:00:00-08:00
2018-03-03T18:00:00-08:00
Where:
Rainforest Arts Center
35 N Forks Ave
Forks, WA 98331
USA

Contact:
Reece Depew 360-640-4604
Cole Baysinger 360-640-0636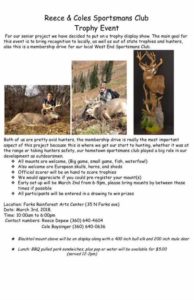 Reece and Cole's Sportsmans Club Trophy Event
For our senior project we have decided to put on a trophy display show. The main goal for our event is to bring recognition to locally as well as out of state trophies and hunters. We also are doing a membership drive for our local West End Sportsman Club.
Both of us are avid hunters. The membership drive really is the most important aspect of this project because this is where we got our start to hunting. Whether it was at the range or taking hunters safety courses. Our home town sportsmans club played a huge role in our development as outdoorsmen.
All mounts are welcome (big game, small game, fish and waterfowl)
Also welcome our European skulls, horns and sheds
Official scorer will be on hand to score trophies
We would appreciate it if you would pre-register your mount(s)
Early set up March 2nd from 6pm-9pm please bring your mounts between these times if possible
All Participants will be entered in a drawing to win prizes
Lunch: BBQ pulled pork sandwiches, pop or water available for $5.00 (served 12pm-2pm)
 A Blacktail mount (in picture above) will be on display along with a 400inch Bull Elk and a 200 inch Mule Deer