When:
November 21, 2014 @ 9:00 am – 11:00 am
2014-11-21T09:00:00+00:00
2014-11-21T11:00:00+00:00
Where:
Peninsula College - Forks Extension
481 South Forks Avenue
Forks, WA 98331
USA

Cost:
$15 or free to PC students with ID
Contact:
Phyllis van Holland
(360) 417-6291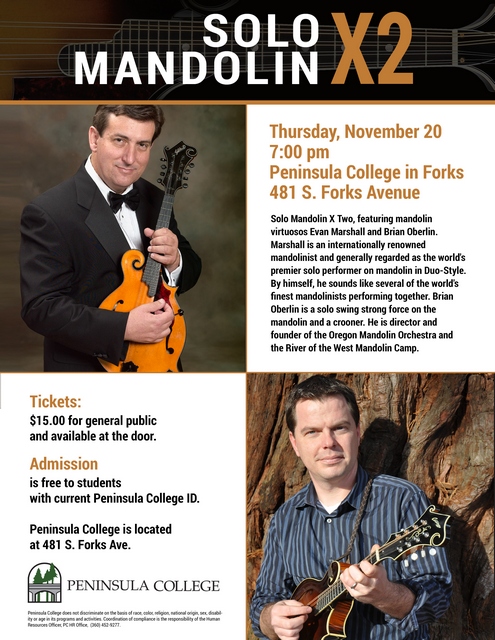 Mandolin Virtuosos to Perform at Peninsula College in Forks November 20
PORT ANGELES, Washington (November –, 2014)─Forks residents are in for a real treat on Thursday, November 20, when Solo Mandolin X Two, featuring mandolin virtuosos Evan Marshall and Brian Oberlin, perform in concert at Peninsula College. The program will begin at 7:00 pm at 481 S. Forks Avenue.
Marshall is an internationally renowned mandolinist and generally regarded as the world's premier solo performer on mandolin in Duo-Style, while Brian Oberlin is a crooner and solo swing strong force on the mandolin.
Music enthusiasts say that Marshall by himself sounds like several of the world's finest mandolinists performing together. His stylistic signature is classical, with strong influences from the Italian and American Folk traditions, and his unique take combines bass lines, chords, rhapsodic runs and tremolo melodies.
Country guitar legend Chet Atkins has called Marshall, "One of the few great musicians of our time."
Marshall began classical violin studies at age seven, and added the mandolin at age 14. The result is a storied performance career that includes being a featured guest artist in pops concerts with a number of Symphony Orchestras, including Houston, Phoenix, Long Beach, Grand Rapids, Fort Worth, San Antonio, Jacksonville, and Pensacola.
Two of his solo mandolin recordings have been released by Rounder Records. The Washington Post labeled them as "Truly dazzling," while the Raleigh-Durham Independent called them "Superhuman," and the Fresno Bee saluted them as "Mind-boggling." Marshall also has recorded three solo CDs for his own label, Mandolin Conservatory
In 1995 Marshall made his first appearance on "A Prairie Home Companion" with Garrison Keillor. Between 1993 and 2005, Evan was a featured soloist at Disneyland, performing his signature William Tell Overture. He has also performed and taught at numerous regional and international conferences for mandolinists, and had been hailed as "The Michael Jordan of the mandolin."
Oberlin is the director and founder of the Oregon Mandolin Orchestra and the River of the West Mandolin Camp. When he is not performing, he teaches music to children and adults at art centers, cultural events, festivals, camps, music schools and academies.
During his 12-year professional career, he has played swing, bluegrass, and Italian classical as a solo mandolinist and vocalist. He is known for his ability to switch gears while performing. He might, for instance, switch from crooning an old Irving Berlin or George Gershwin song to a heady mix of fast-paced lyrics to a western swing tune or play the electric  mandolin with a Stevie Wonder or Allman Brothers tune, and then transition into a piano rag. Since 2011, Brian has incorporated Italian solo mandolin pieces, including virtuosic music from Calace, Marucelli, and duo style techniques in his repertoire and has plans to record a classical solo album in 2013. Oberlin also is often a featured soloist with string orchestras and mandolin orchestras playing Baroque and Romantic era mandolin solos.
In 2011, he released a double album, Solo Swing and Solo Swing Christmas.
Tickets for the concert are $15.00 for the general public and available at the door. Admission is free to students with current Peninsula College ID. Peninsula College in Forks is located at 481 S. Forks Ave.
Phyllis van Holland
Peninsula College
(360) 417-6291